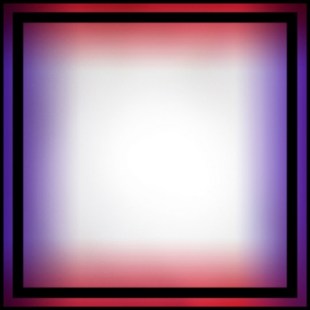 Electronic duo OOFJ (short for "Orchestra of Jenno") will release their sophomore record, Acute Feast, on April 21 via Ring the Alarm. Comprised of Jens Bjørnkjær and Katherine Mills Rymer, the pair met in New York City while Bjørnkjær worked on the score for Lars von Trier's Melancholia. The chance encounter turned out to be a fortuitous one, sparking what would become both a romantic and creative relationship for the two.
That Bjørnkjær was working on Melancholia when he and Mills Rymer met is telling of OOFJ's music. The pair's songs have a dark, heavy electronic sound that tends toward the experimental. Mills Rymer's vocals play an integral role here. Her singing is ethereal, adding a contrasting element to the deeper instrumentals behind it. Though her voice sounds almost fragile, the contrast it brings adds a depth of sound to Acute Feast and reinforces a certain sensuousness to the music. This is perhaps clearest on album opener "You're Always Good." It should come as no surprise to listeners that the two are a couple both musically and romantically.
Though OOFJ is short for "Orchestra of Jenno," it is worth noting that neither half of the pair is particularly invested in the pronunciation of the acronym. Bjørnkjær noted in an interview, "When we started [making music] together, we made [the name] short…It's not a very sexy explanation." In the same interview, Mills Rymer added, "You can say [the name] in whatever way you want. In some ways that's kind of subversive."
To call the openness of OOFJ's pronunciation "subversive" may be a bit of a stretch, but the duo's music itself moves in that direction without a doubt. Equal parts glamorous and nightmarish, with a glittery seductive tone to it, Acute Feast points toward a sexier, almost ghost-like world.
OOFJ's Acute Feast is available April 21 via Amazon, iTunes, and Ring the Alarm.
Editors' Recommendations