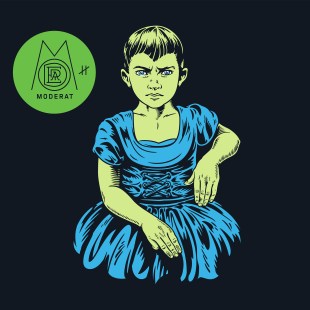 Moderat, the collaboration between German electronic music stars Modeselektor (a.k.a. Gernot Bronsert and Sebastian Szary) and Apparat (a.k.a Sascha Ring), has a knack for simple but elegant titles. Released in 2003, the supergroup's debut EP was titled Auf Kosten der Gesundheit (At the Expense of Health) due to the exhaustion recording together brought about. It would be six years before the trio's first full-length came out. Now, in 2016, Moderat has just released III through Mute Records.
As the group describes it, III is the completion of a trilogy that began with that began with I. The progression the band is referring to is sonic rather than thematic. The members of Modeselektor and Apparat initially conceived the Moderat project not as a recording act, but as one that was "just about fun." Since the release of Auf Kosten… and the trio's first full-length, I, they have gradually moved into more traditional and unified songwriting process, III is the culmination of that progression.
In addition to more unified tracks, like the above-linked "Running," III brings incorporates elements of pop, too. Unlike previous Moderat releases, the record features no guest vocalists, but sees Ring take over vocal duties instead. Accompanying Ring's adoption of primary vocal duties is an increase in the prominence of vocals, as, for example, on "The Fool."
Don't let the austerity of III's title fool you, Moderat's new record is anything but. III is similar to Moderat's previous work in its artful blending of Modeselektor and Apparat's styles but ultimately feels more complete and, taken in the context of I and II, like the fulfillment of a particular artistic ambition.
III is out now on Mute Records and available on Amazon, iTunes, and the Mute online store.
Editors' Recommendations