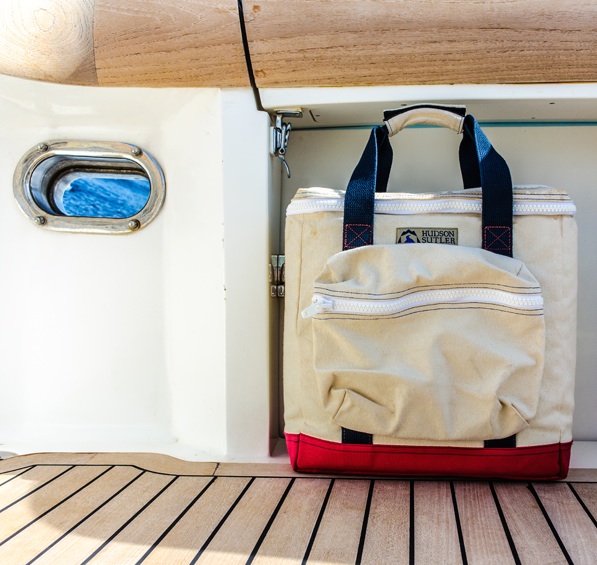 A beat up duffel bag with a great patina and a rusted, green, gunky zipper led Grant Hewit to conjure up his company Hudson Sutler. The bag, which originally belonged to his dad during his college years, was passed down the line and ultimately wound up in Hewit's hands.
Today, Hudson Sutler sells sophisticated duffel bags with an oversized waterproof zipper. They stole the idea from a boat cover. "I felt there was a bigger opportunity to build a brand around travel," says Hewit.
His target customer is a young professional male just out of college up to men in their mid to late 30s. "These are guys looking to have experiences outside the office."
Duffel bags have been the flagship item from the beginning. The company offers commuter duffels and larger weekender duffels for two to four day trips, but they are continually developing new products. The latest came out just a few weeks ago. The Montauk Cooler Bag is made of 18-ounce canvas that's sturdy and made for wear and tear. It has a waterproof liner (the same kind used for life rafts), a rust proof resin zipper and flip top access. It retails for $130.
"Cooler bags are certainly out there," says Hewit, "but a lot of cooler bags are pitched more toward the fishing and hunting community. While ours can be used for that, our core demographic is a little more social."
Right now, Hudson Sutler products are sold exclusively online, but that could change soon as they continue to beef up manufacturing to meet the constant demand. "The say we go about product development is to ask, 'How do we build a product and brand that gives an inanimate object a soul?'" Hewit says.
Looks like they are putting plenty of soul into products that will be well-loved, just like that original duffel bag that sparked a whole new company.
Editors' Recommendations