E-bikes offer an innovative blend of classic and new technologies, taking everything you know about a traditional pedal-based bicycle and elevating it to the max. Most importantly, they improve every ride with the help of an electric motor, allowing you to tackle steep grades and hilly terrain easily. In fact, that's precisely what Heybike promises with the Ranger, a class 2/3 electric bike with a step-thru frame, adjustable handlebars, three levels of pedal assist, and fat tires for traversing just about any terrain you might encounter.
Of course, there's much more to the than we've explained here. Thanks to its long list of features and specifications, It could change every ride you ever have and every ride you will ever have. For example, it's foldable for RV trips, so you can easily stow it for a road trip. Moreover, the comfortable and shock-absorber seat dampens vibrations and shocks during your ride, so you can enjoy a smoother and more pleasurable experience, no matter how tough the terrain. All of that, plus the powerful motor and battery, will transform your bike rides for the better.
No more tough rides: Get the pedal support you need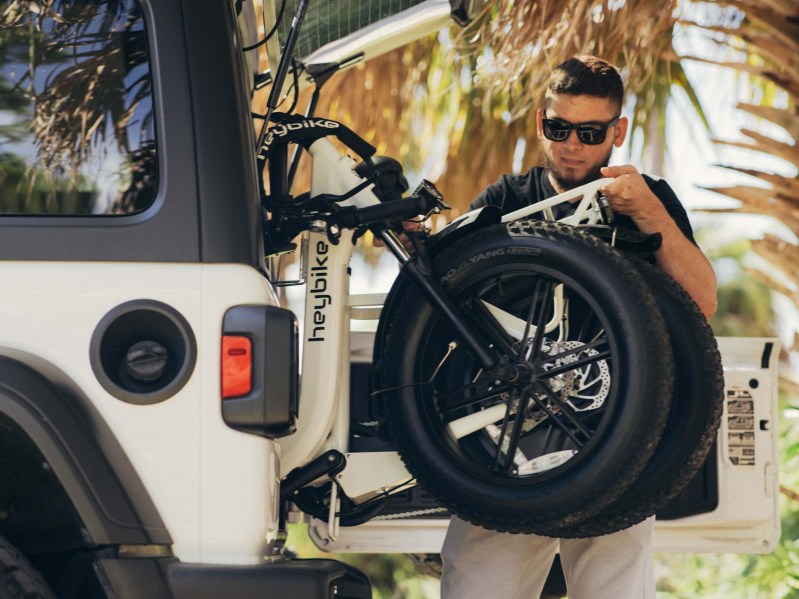 Going on a bike ride is a great way to exercise, but we all have a particular stretch that we dread passing. It could be a steep hill for you. Or, it's a long and monotonous stretch of country road that you wish you could bypass quickly. Whatever the case, the Heybike Ranger is the right vehicle. It's a pedal bike, not unlike your average traditional bicycle, but it's also jam-packed with convenient features to make your trip so much better. So, whether you want to race ahead of the pack and reach the destination first, or you want to be able to keep up with your hardcore biking buddies, you're always ready to go.
The specialized 48-volt, 15 amp-hour removable battery delivers power to the 500-watt brushless hub motor for up to 40 to 55 miles per charge. Coupled with the Shimano 7-speed gear system, you're ready to tackle your next ride. You can drop it into a lower gear at any time to make pedaling easier up hills or shift up to a higher gear when you're ready to get moving fast. The comfortable shock-absorbing and damping seat will keep you much happier during your rides. Plus, the front suspension fork, adjustable handlebars — designed to better match the physiological structure of the human body — and resistant fat tires add even more usability.
Dual front lights ensure you can see ahead, and all others can see you coming even at night, and the foldable design makes it easy to stow away for an upcoming trip — whether in an RV or the back of another vehicle. The sturdy cargo rack also allows you to carry supplies, groceries, gear, food, and more. So, you'll never be caught out on the trail empty-handed.
Step-thru into your new electric bike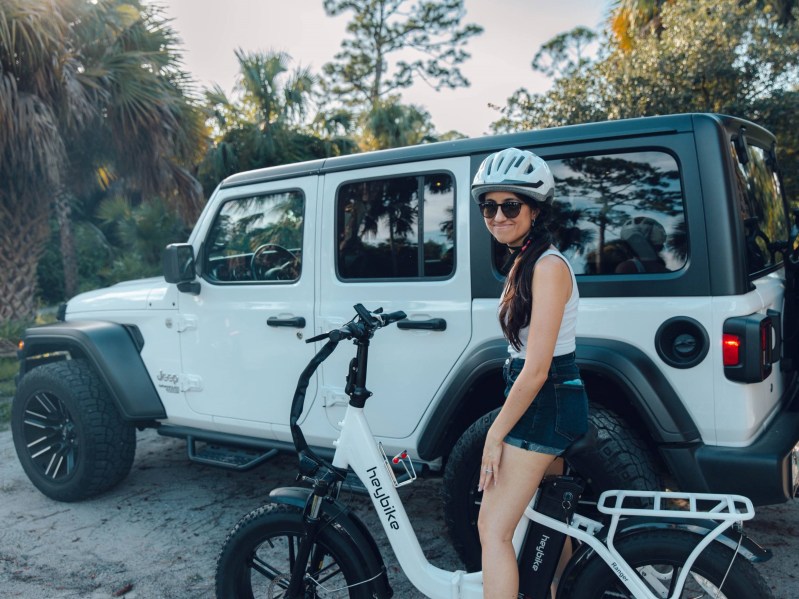 The step-thru configuration makes it super easy to mount the bike. You don't have to swing your leg way over like you would with a traditional bicycle. You can actually step right through and lean back onto the seat. It also makes it easier to get your feet on the pedals before, during, or get them off after a ride.
The foldable design makes unfurling and going on a quick ride super easy. The frame folds inward in the middle to reduce the space it needs in storage or while traveling. But more importantly, when you're ready to take the bike out, it takes just seconds to unfold and get going. You don't need to undo straps, untie the bike, or mess with frustrating attachments.
It's incredibly versatile, as well. You can use the Heybike Ranger to commute to work, run errands, while camping, during road or RV trips, trail-riding, off-roading thanks to the fat tires, standard road rides, tackle uphill terrain, and even while golfing. Yes, Heybike's electric bikes are perfect for use as a golf bike. They're much more efficient than a golf cart, too.
Who says your next bike ride has to be a sweaty, frustrating mess?
One of the best things about e-bikes like the Heybike Ranger is that you can work as much or as little as you want. You are in full control. You can adjust the pedal assist level, speed up using the motor, or just use it as a standard bike and pedal to your heart's content. In other words, you can go for a relaxing bike ride without breaking a sweat if that's what you want. Or, you can put the throttle to the metal and speed off into the sunset.
Editors' Recommendations