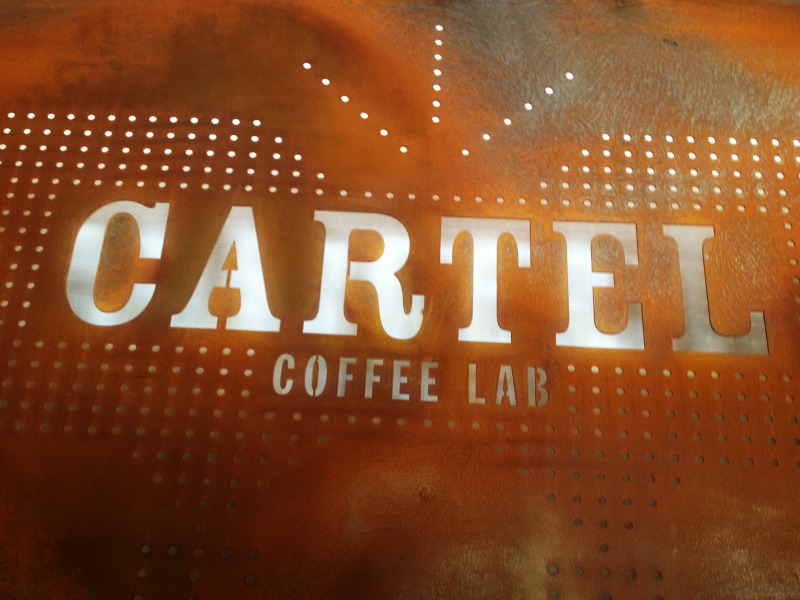 Phoenix not only roasts its citizens with triple digit temperatures, it roasts fantastic java. In recent years the city has become a place of coffee connoisseurs adding to the West Coast explosion of coffee culture.
One thing you should know about coffee houses in Phoenix is that they are never just coffee houses. Some are bars, art galleries, stores and even one shares space as an architecture firm and boutique. The Manual investigated the best of Phoenix Coffee Culture with our six top picks. If you like coffee try one out, if not, each one is unique so you may find something there you didn't expect.
Cartel Coffee Lab "Back to Black"
Cartel is probably the crème de le crème of coffee. Not just in Phoenix, but on a national scale. They have built a solid local foundation with five locations and garnered national/ international press through the likes of the BBC and Food and Wine. We caught up with Kris Robison the general manager of all their Arizona locations. He explained Cartel is unique because they roast lighter than any coffee shop — corporate or local. "We roast just pass first crack," Robinson said. He said "We are focusing on drip coffee. Traditionally the whole coffee craze has been espresso." Their philosophy is to educate on good tasting black coffee — iced or hot — and it's working as their locations are keeping very loyal customers.
Lola Coffee "The Morning Joe"
Located in the Heart of the Roosevelt Historic District. This is the morning neighborhood coffee joint where you grab quick cup of joe on your way to the office. Hollowed out of the former Gold Spot Market building. Its exposed brick interior and use of metal and grainy woods give you a warm urban coffee bar vibe.
SongBird Coffee and Tea House "ArtHouse and Co-working Space"
A recent addition to Downtown Phoenix this little gem was carved out of the MonOrchid Art Gallery on Roosevelt Row. This space hosts a live work art gallery, live music as well as a co-working space. If you're in line ask for a high fiver and you get to cut the line. But you have to drink the high fiver. One super cool feature of this place is the bookshelf that runs the entire east wall with variety of novels, magazine and books to choose from.
Giant "The Architect"
Giant looks like something from the future dropped in the heart of the city. It's white exterior and ultramodern garage door spills the café out onto 1st Street alongside the Cancer Survivors Park — just a half block from the Phoenix Public Library. Giant shares their space with an architecture firm and Bunky Boutique. They also use tasty San Franciscan roaster Four Barrel for all their coffee beans.
Lux "Place to be seen" 
Lux is a Phoenix staple that has grown from a small coffee hangout for people on their Macbooks to a mutant version of its self with a newly minted space next to their birthplace. It boasts an open-air European-style kitchen, a one-of-a-kind bar open daily and new hours that beckon 2 a.m. It's spacious new digs are filled with trendsetters and young professionals begging to be seen. Lux serves a fantastic atmosphere any day but especially for morning brunch and an evening cocktail.
Press Coffee "Shop and Recharge"
This is perhaps the biggest surprise on the list. We found Press Coffee hiding outside of the Central Phoenix vicinity in North Scottsdale inside the uppity Scottsdale Quarter shopping area. They featured an excellent array of options between pour-overs, ice coffee and espresso. If you're in the area it's worth a stop to recharge while dinning out or picking up that summer gear.
Editors' Recommendations