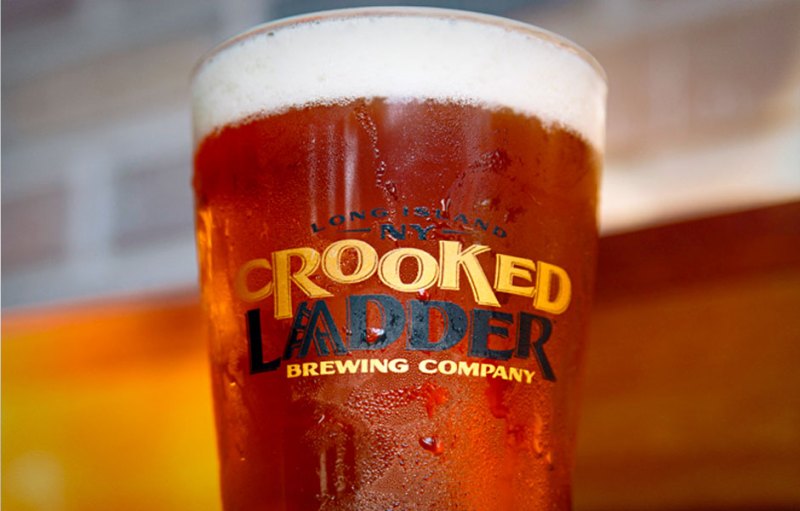 During the summer, to beat the heat, most New Yorkers set their sights on the shores of Long Island. Plenty of city dwellers will flock to the East End to vacation in Montauk or tour the wineries of the North Fork.
But there is another reason to go to Long Island—and not just for the spoils of the summer. It is the exploding craft beer scene that has spread across the Island. You've probably heard of Blue Point Brewing Company, which is featured prominently in bars and stores across the country (including prominent placement in a key scene in Chris Rock's Top Five), but dozens of breweries have opened up in the wake of Blue Point's success; with more on the way.
Jim McCune who heads the Craft Beverage Division at Long Island based advertising agency, EGC, has been at the center of this Island beer renaissance since nearly the very beginning. We talked to Jim about the craft brew scene, beers to look out for and whether or not this boom is sustainable.
How did you get involved with EGC and the Craft Beverage Division?
I've been in the advertising industry for 20 years. I come from a Hollywood ad agency background where we were building brands like Playboy and WWE. But on the side for all those years, I was working with local breweries on their branding—like Blue Point Brewery. I was their exclusive brand manager. It was two years ago when we looked around and realized just how big Blue Point had become. They make great beer, but really their packaging, marketing and branding was a big part of that recipe.
At the same time, the writing was on the wall with the explosion of craft beer across the country, but especially on the Island. That's when I approached EGC about forming this Craft Beverage Division to spearhead the needs of these small to midsized breweries.
How much did Blue Point Brewery pave the way for what is going on now?
Mark Burford and Pete Cotter (the founders of Blue Point Brewery) came from the brewing world on Long Island—the way it was way before Blue Point. There were breweries on the Island like Long Island Brewing Company in Roslyn. There was Cobblestone Brewing Company in Huntington. All of those breweries moved out in the late 80's. So for a long time, there were no real big name breweries (besides Brickhouse Brewery in Patchogue) on Long Island. We just counted about 40 breweries that have been formed in the past 15 years on Long Island, with 12 more in planning.
It seemed like for so long Blue Point was the beacon light of beer brewing on Long Island, why have so many more breweries risen up?
The millennial group is really leading the craft beer industry. These young people, in connection with their early adoption of social media and associating having a good beer with luxury due to the recession, kind of created a focus on making homemade, high alcohol beers.
2002-2005 was a big turning point in the industry. Beers like Blue Point, which was on the shelf next to Budweiser, gave people the hope to say, "I'm going to quit my oil burner job and make beer with my buddy."
Why do you think that Long Island wine has always been a much more prominent beverage than beer? The demographics on Long Island would suggest that there might be a larger population of people who enjoy beer.
That's a great point. The most important thing is that the wine industry isn't seeing craft beer as a threat. Now there is a fringe industry of beer tours and other things like that that have been created. There's even this crazy 14-person beer bike tour in Riverhead.
What brands do you specifically deal with?
We work with Blue Point, Crooked Ladder Brewing Company in Riverhead; we are about to open a brand new brewery called Garvies Point in Glen Cove. We're associated with most of the other breweries too since they are all so closely affiliated; but not everyone can afford marketing services.
What are some Long Island beers that people should know about?
Garvies Point is a name to watch for sure. There is a new ferry system that goes from Glen Cove to Manhattan and their brewery is opening up right there by the terminal, so its going to pop up on the radar very quickly. They recently won 1st Place at Pride of Brooklyn Brew Festival with their Double IPA.
The Crooked Ladder 70 West IPA is hitting the market strong too because they are using all West Coast hops, so they are bringing that full hoppy flavor to the East Coast.
What kind of involvement did you have in the recent Craft Brew Week?
We did a lot of local charity. One of the great parts about Long Island, which I haven't seen in many other industries, is the camaraderie between local breweries. I mean, if one guy over here is running low on hops, he can go over to another brewery and borrow some supplies. So there's a camaraderie and focus on charity that you don't normally see. Most of our breweries were participating in events connected with Long Island Cares, which is Long Island's first food bank.
What do you see for the immediate future in this craft-brewing scene?
We're going to see a new era of competition I think. Because there are so many breweries now and such a limited amount of shelf space, there's going to be a race to the shelf.
All of these people are going to maintain friendships, but they are all serious businessmen with serious investments in their product so most of them are going to do what they have to do to get to the top. There are so many aspects of that, from participating in festivals, local tasting events, beer pairing dinners; all of the things that go into increasing sales volume and making the brand attractive to a distribution arm. That's really where a small brewery can become midsize, like Crooked Ladder, now that they're being distributed by Boening Brothers.
Forbes recently came out with an article that said one of the smartest investments you can make is to buy a brewery. You're going to see a lot of businessmen start to get involved in the market, to build and flip some of these breweries. Blue Point was sold recently for 24 million dollars. That was definitely an eye-opener.
Do you think this Long Island brewing community is stable, as far as creating jobs or drawing attention to different towns and areas?
Yeah, I do. We did some research and back in like 1890, there was something around 5,000 breweries in the United States. But then after World War II that number dropped dramatically. Now that tastes and trends have changed, we're back up to about 3,000. So, I think there is actually still room for growth.
In fact, in New York State from 2013-204 the economic impact from breweries was huge. There were 207 operating breweries with a $3.5 billion total impact. So there are 207 breweries in the state and we have 40 on Long Island with 12 coming. That's a large part of the equation.
I mean you look at a place like Riverhead with Crooked Ladder, Long Ireland and Moustache Brewing and how that town has grown. These breweries are literally saving towns on Long Island and across the country.
Editors' Recommendations