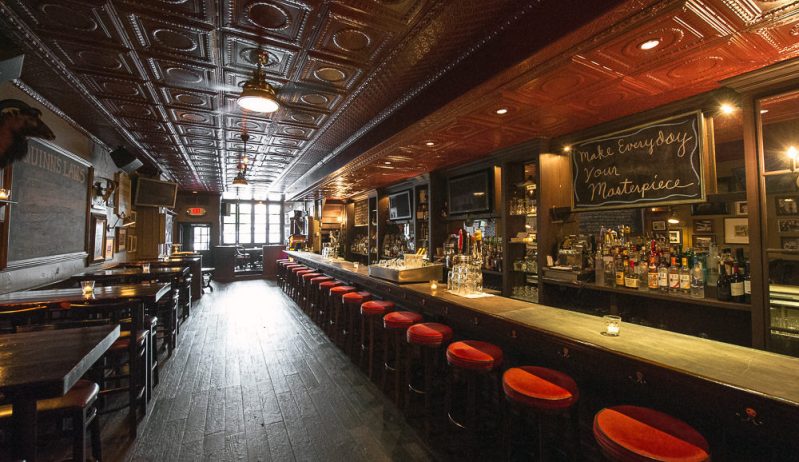 Doug Quinn has long been known as New York's best bartender. Tales of his legendary ability to remember his patrons' names, favorite drinks and go-to stories are widespread throughout the city. In 2012, after a messy split from his lead post at historic Manhattan staple P.J. Clarke's (it's not our job to get into the details), Quinn decided to create a bar of his own, a bar, Hudson Malone, where he could create an "army of Doug Quinns."
In November, Hudson Malone opened it's doors at 218 East 53rd Street—basically right down the road from P.J Clarke's. The bar is split into an upstairs cocktail lounge with a piano player and a downstairs, mahogany-accented saloon-style bar that gives off an old-school New York vibe, the kind one might see on HBO's Prohibition-era Boardwalk Empire.
The cocktails are split into three categories: bubbles, stirred and shaken. Each cocktail is accompanied by the name of a famous actor or actress, writer, athlete or public figure to give patrons a feel for the drink's overall vibe. For "bubbles" you can order a French 75 which is gin, fresh lemon, bubbly, lemon, and a twist. Under "stirred" you have a choice of classic drinks such as a Manhattan No. 2 (rye, sweet vermouth, bitters) and a New York Old Fashioned (rye, sugar, bitters) among others. And for "shaken" there are a variety of cocktails ranging from the Vesper (vodka, gin, lillet) to the Between the Sheets (cognac, light rum, lemon, triple sec). As you can see, the menu's range can strike you in any mood.
Over the past two months, Hudson Malone has rolled out food offerings as well. The focus is on comfort food as well as a raw bar complete with lobster tails and giant shrimp. Quinn says the menu will feature "the best pork chop you've ever had in your life" as well a burger made with a mean blend prepared by all-star butcher Pat Lafrieda. As you can see, the food fits right in with the bar's overall aesthetic.
On the bar's wall, Quinn has his list of "Quinn's Laws" prominently written in chalk. We recommend you follow one these essential life rules, "Always Keep Your Word. And Always Show Up." And after reading all this, we think you'll understand the place to "always show up" to.
That place is Hudson Malone's.
Image courtesy Daniel Krieger Photography.
Editors' Recommendations