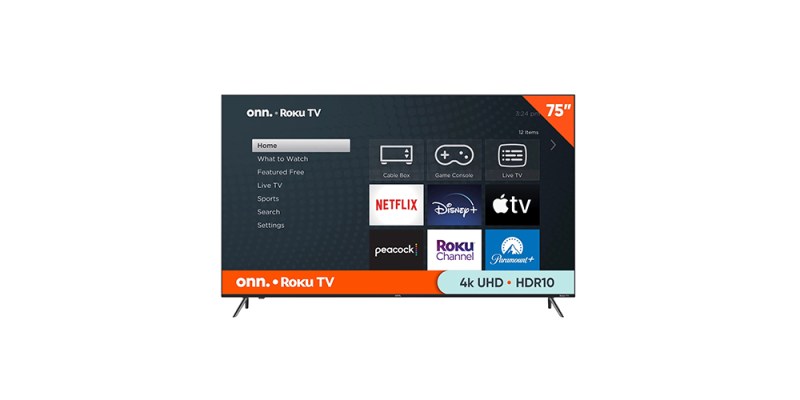 If you love to watch sports regularly, you need a suitably large TV to truly enjoy everything that's unfolding in front of your eyes. That's why we're excited to see Walmart offering an Onn. 75-inch Frameless 4K TV for $498 for a limited time only. Usually priced at $578, you're saving $80 off the regular price making this a pretty sweet deal. If you need to know more about the TV, keep reading. If you're already sold you can simply tap the buy button below to get straight to making a purchase.
Why you should buy the Onn. 75-inch Frameless 4K TV
One of the best ways to watch live sports online is through a smart TV with a massive screen. That's easily the case with the Onn. 75-inch Frameless 4K TV. It has a truly vast 75-inch panel which means you should double-check check your living space has enough room to fully accommodate it. If you're keen to have a TV take up much of the room though, this is a seriously cheap bargain.
It's relatively basic when it comes to core specs, but it has the essentials. Notably, it has Roku Smart TV built-in so you can easily stream all your favorite movies and TV episodes through numerous different apps. A customizable home screen means you can set things up nicely with support for all the best sports streaming services, including ESPN+.
While the customizable home screen soon saves you plenty of time in finding the app you want most, if you need another option, try the Roku mobile app. Rather than relying on the included remote control, you can use the Roku mobile app to search for things with your voice. It's a big time saver and so much more convenient than having to type anything long into the TV via the remote. The Onn. 75-inch Frameless 4K TV is also smart home ready thanks to Apple Home, Amazon Alexa, and Google Home support, so it's a good addition to your smart home setup without breaking the bank.
For an inexpensive solution to your sports-watching needs, give the Onn. 75-inch Frameless 4K TV a try. It usually costs $578, but right now you can buy it from Walmart for $80, down to $498. This is the perfect opportunity to save some valuable cash and still reap the benefits of a good budget TV.
Editors' Recommendations