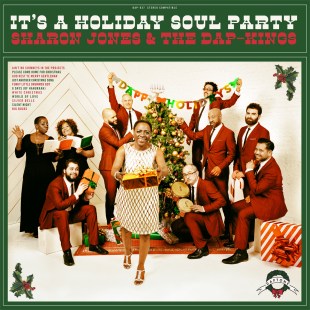 Holiday music is something you either love or you hate. Full disclosure, I fall readily into the latter camp, and personally speaking, could die a happy man never hearing Bing Crosby's saccharine rendition of "White Christmas" ever again. Moreover, it seems that every year at least one major artist cashes in on the holiday music phenomenon with a series of cheesy takes on Christmas classics. Even Bad Religion has a (non-ironic) album called Christmas Songs!
I say all of this not to scoff at holiday music (well, not just to scoff at holiday music), but because that background makes it all the more extraordinary that Sharon Jones & The Dap-Kings' latest record, It's a Holiday Soul Party!, works so well. The band dives headfirst into the music, with Jones and co. incorporating funk and soul into each track.
Jones and The Dap-Kings could have chosen to simply to rearrange a few traditional holiday songs and call it a day, but instead they have incorporated originals with traditional songs and put lots of soul into both. The band's original songs and its takes on established tunes have a vitality to them that holiday music so often lacks. Undoubtedly much of that energy comes from the incorporation of funk and soul into the arrangement, but just as much of it comes from the band and Sharon Jones herself. Listening to Holiday Soul Party, it is clear that the players are all enjoying themselves. The band does not lean into the schmaltz that so often seems inescapable in holiday music, but these tracks are by no means aloof or winking renditions. Jones & The Dap-Kings' rendition of "White Christmas" makes the track fun and even manages to overcome my distaste for the song.
As refreshing as It's a Holiday Soul Party!'s vitality is, I would be remiss not mention that it also adds a new song to the too short list of holiday tunes celebrating Hanukkah, aptly titled "8 Days of Hanukkah." A funk song singing the praises of the holiday may not be what anyone expected to hear, but it is a strong addition.
It's a Holiday Soul Party! restores a vital energy that is consistently lacking in holiday music, and proves itself worth a listen even for those who aren't usually fans of the genre thanks to the clever, soulful takes on the songs and Sharon Jones & The Dap-Kings' own energy.
Sharon Jones & The Dap-Kings' It's a Holiday Soul Party! is out now on Daptone Records and available on Amazon, iTunes, and Daptone's online store.
Editors' Recommendations