New vehicle generations occur approximately once every seven years and introduce updated styling, technology, and powertrains. When Rolls-Royce re-creates its Phantom luxury sedan, however, there's a lot more at stake.
One of the oldest production nameplates (just under a century in the making), has seen only seven vehicle generations until now. Today marks the eighth.
Though the all-new range-topping Rolls may look similar to its predecessor, it has been reworked in every possible way. This is the most luxurious and sophisticated vehicle ever to wear the Spirit of Ecstasy ornament.
Working from the outside in, the Phantom VIII adopts evolutionary design cues that combine for an elegant stance. "Phantom is the epitome of effortless style, an historical nameplate that occupies a rarefied space in the luxury constellation and conjures a rare magic all of its own," commented Giles Taylor, Rolls-Royce Director of Design.
The car's exterior appears like a single block of aluminium thanks to few visible panel join lines. At the front, the iconic Pantheon grille is raised higher than the Phantom VII and integrated within the front fascia (a first for a Phantom). A stunning new headlight design with laserlight technology illuminates up to 600 meters ahead at night.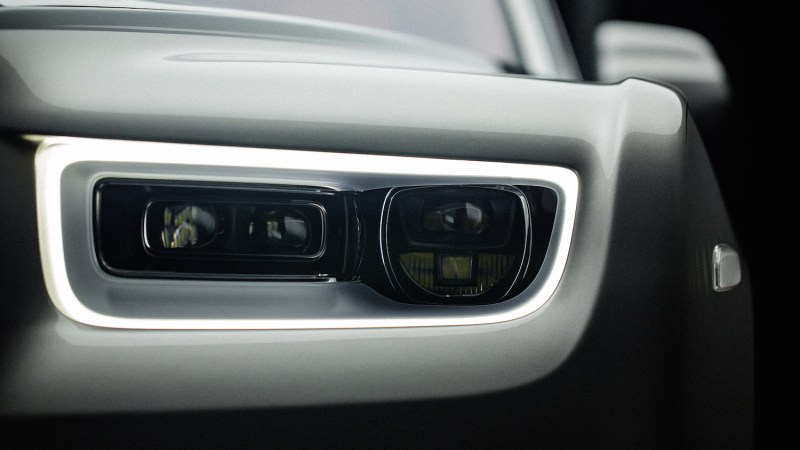 Maintaining the Phantom's classic 2:1 proportions, with short front and long rear overhangs, the Phantom VIII appears dynamic in front and graceful at the rear. The tapering rear end has a greater rake than the Phantom VII, but maintains excellent headroom for rear passengers. New 22-inch wheels are the largest alloys ever fitted to a Rolls-Royce product.
Inside, the Phantom VIII echoes Taylor's futuristic design philosophy, 'The Embrace.' Taylor wanted nothing to distract passengers from a sense of calm and tranquillity. Advanced technology is there, but only when needed. All passengers enjoy more comfortable seat designs, and rear riders experience the largest Starlight headliner of any Rolls Royce car. The rear center console has also been redesigned to accommodate a drink cabinet with whisky glasses and decanter, champagne flutes and a coolbox.
Though many Phantom owners – especially those with long wheelbase models – will be driven rather than drive, front passengers won't complain. The new "Gallery" dashboard now includes a reconfigurable 12.3-inch TFT driver display. Every generation of Phantom until now has used an analogue gauge, but times are changing and Rolls-Royce customers have asked for a modern display.
In addition to the vivid new display, the Phantom VIII will benefit from a number of safety technologies. Fitted with the largest electronic architecture (ECU) of any BMW Group model, the new Phantom will offer surround view camera systems, driver alertness warnings, night vision, adaptive cruise control, collision warning, pedestrian warning, cross-traffic warning, lane departure and lane change warning, an industry-leading head-up display, WiFi hotspot, and an updated navigation system.
Ride quality will also be improved thanks to a brand new platform. The "Architecture of Luxury" is an all-aluminum spaceframe that will underpin the upcoming Cullinan SUV, along with the next Ghost, Wraith, and Dawn. The new chassis is 30% more rigid than the Phantom VII and will address ride, acoustic, and seat comfort.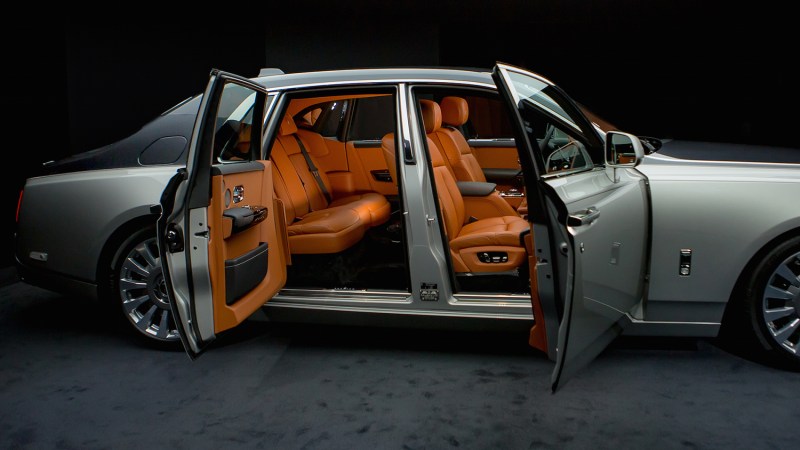 "The Architecture of Luxury gives me the canvas to protect the lineage and brand integrity of Rolls-Royce without compromise," said Giles Taylor, Rolls-Royce Director of Design. To maximize rider comfort, the Phantom VIII platform is mated to the latest generation self-leveling air suspension, four-wheel steering, stability control, a new double-wishbone front axle, and five-link rear axle.
The Phantom VIII looks good and feels good, but how does it sound? Like silence, apparently. Rolls-Royce set out to build the "most silent motor car in the world." To do so, it added more than 286 pounds of sound insulation. The result is a 10% quieter cabin compared to its predecessor. Not even the Phantom VIII's massive new 6.75-liter twin-turbocharged V12 will unsettle the quiet ride. 563 horsepower and 664 pound-feet of torque will smoothly flow through a ZF eight-speed gearbox to the rear wheels.
Now that we know the details, all that's left to do is experience the latest and greatest from the world's finest luxury manufacturer.
Editors' Recommendations