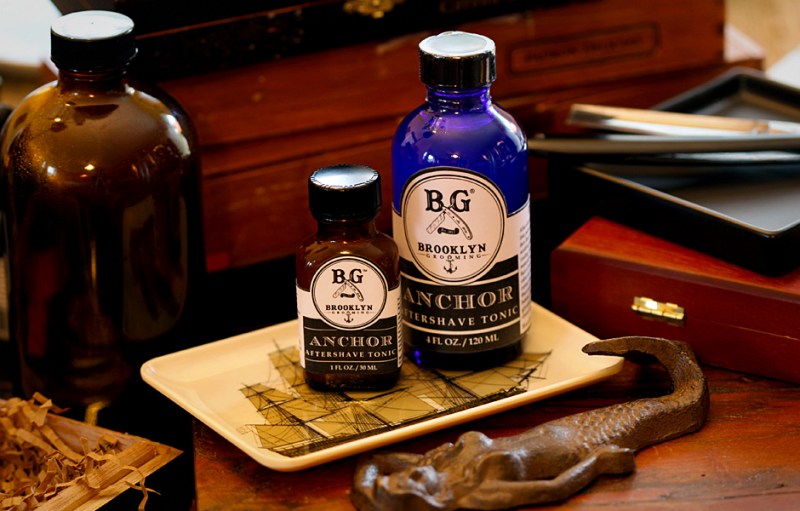 Long gone are the days when facial hair was synonymous with a slovenly man. Today, beards aren't just pervasive, they're treated like royalty, and as such beard grooming is giving shaving a run for its money. There are no shortage of brands vying to help you spruce up your face follicles, but among them, Brooklyn Grooming has stood out. Since launching their all-natural, beard-centric brand two years ago, they've gone from being a local favorite to an international sensation. Here, we catch up with owner and founder McKenzie Santiago and co-owner Alfredo Ortiz Catedral to learn about what makes the brand so special and see what's happening behind the bearded scenes these days.
Who has the best beard right now?
Alfredo: Short beards: Ryan Gosling, Chris Pine, Jon Hamm, Daniel Day Lewis.
Mckenzie: I've always been a fan of Zach Galifinaikis! John Hamm and Justin Theroux have sexy beards to.
Brooklyn Grooming is primarily a beard grooming company. Mckenzie as a woman, what drew you to creating a company for men's beards?
Mckenzie: Working in this field came about rather naturally. I've always had a love for men's products—I prefer masculine scents to most women's fragrances. In my estimation there seemed to be a void in the mens market for real essential oil based grooming products. Most mens products had fragrances that seemed stuck in the '90s and I was searching for products with scents that were woody, herbal, earthy and masculine. At the time I had a women's line that had a masculine lean so the switch seemed very natural. When we originally started the brand we jumped in with six different men's grooming products, and we continue to make those same six products as well as several more. We were thrilled to see that so many people loved the beard products as much as we did and things have just taken shape on their own from there.
Alfredo, were you always a guy who groomed his beard or was this something Mckenzie turned you onto?
Alfredo: While living in Spain I discovered trimming over shaving and I began to notice that the less I shaved the healthier my skin looked. I started to let my facial hair grow for longer periods of time and started cultivating a short beard. Later as Mckenzie and I began to work together I found myself more invested in my beard management, so yes, Mckenzie and her passion for creating the line influenced me.
What are the best and worst things you see guys doing with their beards?
Alfredo: The worst: Shaving them off and not properly caring for them. To me, having a beard is like having a frame for your face, you have to care for it. The best: Having fun with them, trying new routines and looks, changing it up is part of the fun of having a beard.
Mckenzie: I just saw this clip about men getting beard implants because beards have become such a powerful trend. I think that might be the worst thing I can imagine. If you can't grow a beard embrace something else, don't get implants. The best thing a man can do is to just take care of your beard! Don't obsess over it, but don't neglect it either. Its all about balance.
Why should guys with beards use a balm or an oil?
Mckenzie: I think every man can benefit from a beard oil or balm. First it softens, conditions and tames the beard which not only makes the beard more sleek and uniform but it's also so much more comfortable for the skin, relieving itch and scratch, especially when you're first growing you beard out. Also plenty of men have issues with "beard-druff" which can be a pain. Oils and balms can help balance sebum production, which helps with dryness, tames flyaways and smoothens bumps.
All natural line at the neck and cheek or a shaved in line?
Alfredo: I prefer the shaved line, at least on the cheeks. As much as I like the "wolverine" look I gotta be able to see some face
Mckenzie: I'm a fan of both. seriously, it depends on the man.
Mustaches…yea or nay
Alfredo: Absolutely a Yes!
Mckenzie: I usually like a mustache with a beard best, but some men really pull it off.
From design to the actual product, there's an emphasis on "simple" and "natural" in the Brooklyn Grooming formula. The result is a great product that works. When paring something down to the basics like this, how do you make it stand out?
Mckenzie: I started the brand after I had been concocting beauty recipes for over a decade. My interest was first piqued in Portland, Oregon over 12 years ago after being exposed to a very natural way of living. I started studying herbs and formulas while I was working in the service industry and at the time I had no idea that it would eventually lead me into creating my own brand. I started my first line of products about seven years ago and discovered that I had a huge interest in making skincare that was unique to the mainstream market. Ultimately anyone can make a beard oil, but no one else is coming from where we are with our scent creation and that is where we stand out. Add to that a genuine commitment to learning about and utilizing health promoting ingredients and you understand our very real and simple approach.
Were there challenges in creating something without chemicals?
Mckenzie: Yes and no. When I started writing the recipes there was no doubt in my mind that all the products would be chemical free. The challenge was finding ways to mimic products that have chemicals in them that people seem to like. For instance, most mustache waxes are petroleum based, which makes them super waxy and gives them a strong hold. I had to figure out a substitute for petroleum, which isn't easy, I finally decided castor oil would be the best oil because of its viscosity. There were also challenges with finding ways to preserve the oils from breaking down from age and heat.
All natural is definitely trendy but what's so bad about chemicals?
Mckenzie: Chemicals leach into your skin and can be harmful over a period of time. Chemicals also don't really ever target the condition, just the symptoms, and often times they are even worsening the situation. Using natural oils can help balance out the natural oils your body makes on it's own. I can't say from a clinical perspective what most of the thousands of chemicals on see on product labels will or will not do to you but personally I don't want to find out, especially when using products that go directly on my skin and around my mouth and eyes.
The name is so location specific, even the products have specific neighborhood names. Why do you think this has translated on an international level? Are there plans to move into other cities? I know you spent time in Oregon and LA, might there be a Portland, Eugene, Venice Beach or Silver Lake scent coming down the pipeline?
Mckenzie: I think our products have international appeal because of their quality, design and packaging. It certainly doesn't hurt that Brooklyn has a reputation as a creative hub and I'm okay with that, especially because Brooklyn is where we're proud to live and create. However I think it's really the quality of our products that are responsible for our success. I'm just happy people really seem to like and get us which is important to both Alfredo and me. So far we are sticking to the city that has kept us launching the products that inspire us.
How did you guys get started?
Mckenzie: I had a business prior to Brooklyn Grooming called Pretty Monsters, some of the products were incredibly masculine and unisex so the shift to becoming a mens brand was natural. Alfredo had helped me with the design for my previous line so when I approached him he was game to help with Brooklyn Grooming. We had already developed a shorthand and our collaboration quickly bloomed into a partnership. Neither one of us expected the brand to be so quickly well received but we are thrilled as we have quite literally poured our blood, sweat and tears into the line. I came up with the different scent names after the recipes had been written and it seemed like a cool way to pay an homage to Brooklyn since the business was born there. We had six products in the beginning, beard oil, pomade, tattoo balm, facial serum, shaving oil and mustache waxes. We wanted to give people a variety of products and see what our customers would like, people loved the beard oil and our demand grew almost immediately, within six months we launched a beard balm, which was similar to the oil but thickened with beeswax and Shea butter for stronger hold. That product took off and we became known for our beard oils and balms. The cool thing about our line is we've been able to grow organically and without investors and marketing, we've been fortunate to meet some great people along the way who have really helped us out.
What's next for you guys? Anything good for the guy who still shaves?
Mckenzie We have a top secret product we will launch later this year, anyone with or without facial hair will be able to use it and we think it will be a killer product that will not only gain a few laughs but will also make guys go, whoa this is something I have needed for a long time.
We are also partnering with a Brooklyn soap maker and will be launching an incredible shaving soap soon!
Editors' Recommendations