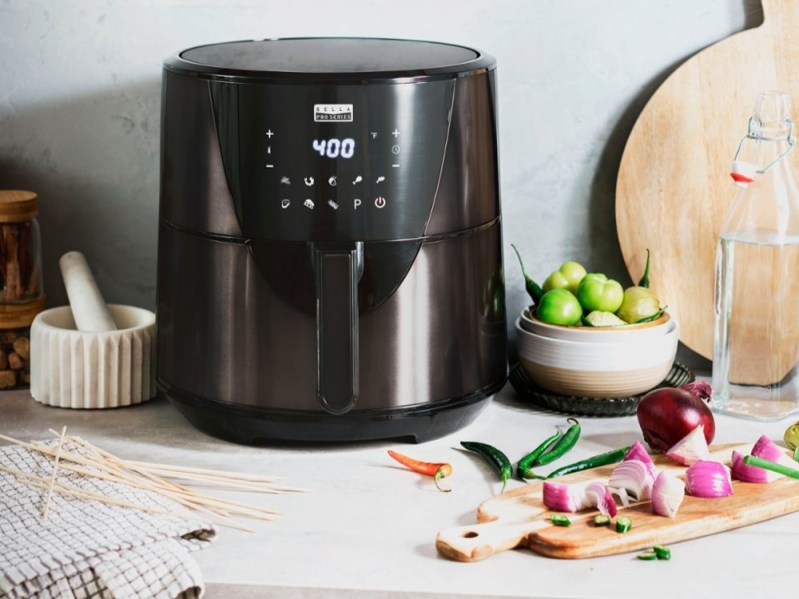 Air fryers are one of those appliances that you don't realize are so versatile, and so helpful until you actually start using one. It's not just because you can use them to cook delicious Salmon recipes in less than 20 minutes, or because they make it easy to reheat food. No, it's often because they come with a variety of cooking modes, from baking, broiling, roasting, and frying, to several pre-programmed options for different types of food. With the right top-rated air fryer deal, you can nab a great system at a great price. Well, that's precisely what the Bella Pro Series 8-quart digital air fryer offers, and it's on sale at an incredible price right now. Normally $140, it's yours for just $90, saving you $50. Hurry over to Best Buy if you're interested, this deal probably won't last long.
Why you should buy the Bella Pro Series 8-quart digital air fryer
This top-rated air fryer deal includes one of the best Bella Pro Series models out there, and at a huge discount. For starters, it has a large 8-quart capacity which is enough to prepare about 6.5 pounds of food at a time. You could feed a very large family with that much food. All of the food is cooked using high-performance circular heat technology which recirculates the heat inside the unit to deliver crispy, evenly cooked foods, and at a pretty fast rate. Air fryers cook so much faster than conventional ovens.
That's in no small part thanks to the 1,700 watts of power which will healthily prepare everything you toss into the cooking basket. We say healthily because air fryers use a lot less oil than a deep fryer — only the oil already in the food you're cooking. If you want to know a little more about how they work, and what's the best criteria for how to choose an air fryer, be sure to reference our excellent guide.
Back to the Bella Pro Series, it has a black stainless steel exterior which should match most of your modern appliances and décor, that's always a plus. Moreover, there's a digital touchscreen on the front that tells you all the info you need, like cooking times and temperatures, but also it's how you select between the 9 different preset cooking programs. When you're all done preparing your meal, you can easily clean this top-rated air fryer by simply removing the non-stick basket and crisping tray and putting them right into the dishwasher. That's right, no need to hand wash those.
Above all, the Bella Pro Series 8-quart digital air fryer is available at an incredible discount. Best Buy has slashed $50 off the regular price in this top-rated air fryer deal — normally $140 — so you can buy it today for just $90. That's one of the best prices we've seen all year for this model, and there are no guarantees it will be this low again.
Editors' Recommendations