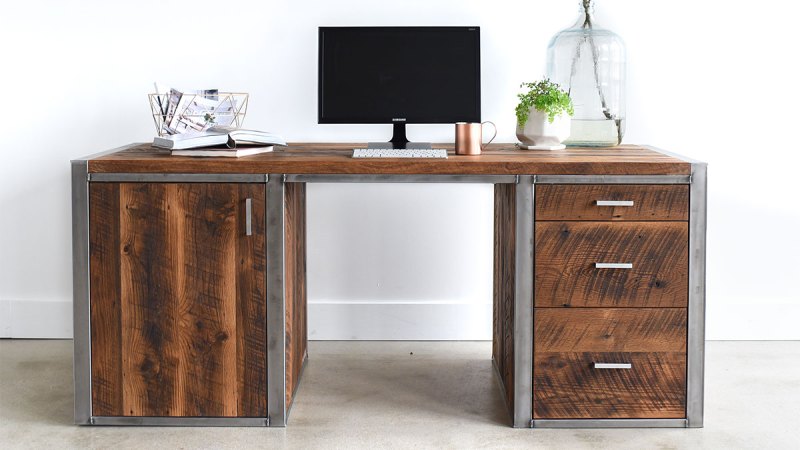 When it comes to furnishing a home, office, or personal space – there are two paths you can go by. A furnished space can be featureless or it can be defined by choosing pieces that inspire. The folks at What WE Make — who build handmade furniture from reclaimed wood — believe in placing value in craftsmanship, history, quality, and sustainability alongside of functionality.
What WE Make is a family owned and operated fine furnishings company that, since being founded in 2014, has fine tuned their craft to focus on using reclaimed materials and eco-friendly finishings to produce a unique product. Each piece of furniture is built using reclaimed old-growth wood from midwestern barns, hand welded metal, lightweight concrete, and non-voc finishes to produce an industrial-rustic feel. We reached out to Mr. Dan Quinn — the President at What WE Make — to learn a little bit more about what they do.
Can you tell us about the wood you reclaim and how it makes its way to your shop?
The wood for our pieces is reclaimed from barns in the Midwest — predominantly from Wisconsin. We work with a crew that dismantles the barns, cleans the wood, kiln dries it, and delivers it to our shop.
From an old barn to a focal piece of furniture in a home, can you walk us through your crafting process?
Everything starts with the beauty of reclaimed wood. Though it takes a few extra steps to get its beautiful look, the end result is well worth it. Each board is kiln dried before it makes it to our shop. We then clean it, rough sand, plane/join, and prepare it for assembly. Based on the project, we select pieces to fit customers requested aesthetic. It's an art form picking the right wood as each piece of reclaimed wood is unique and has its own character. Our focus on the fine details and building heirloom quality pieces really distinguishes us from most reclaimed wood furniture makers.
You offer both residential and commercial pieces, as well as custom orders for finely crafted furniture. What kind of custom pieces have you completed in the past?
All of our pieces can be customized as needed. We make everything by hand, so in effect, each piece is custom. We also work with customers to design pieces to fit their specs. Many of our pieces started as a need for a customer that we turned into an awesome design and ultimately a lovely piece of furniture. We have created many custom designs from conference tables, to reception desks, to dining tables, to bedroom furniture. We can make most anything out of wood, metal, and concrete.
You highlight sustainable practices and use of green products when building your products. Can you tell us a little more about what that means, with specific examples?
Our foundation is based on reclaimed wood. We started working with reclaimed wood because it affords the opportunity to take something that had a prior life and turn it into a work of art. We relish this opportunity and try to carry it through our entire process. We also use all voc-free finishes to remove the toxins that many standard finishes bring into customers homes. We use paper packing products so customers can recycle their packing materials as oppose to foam. We try to use sustainable materials wherever possible.
Industrial-rustic feel. Tell us more.
We love clean design. Reclaimed wood is naturally rustic, but mixing it with metal helps give it a nice blend of that rustic charm and that clean rustic feel. We try to stick with simpler designs to let the wood and craftsmanship speak for itself. Our customers appreciate that which is why we have a large base of repeat customers and some customers that we have furnished their entire home/office space!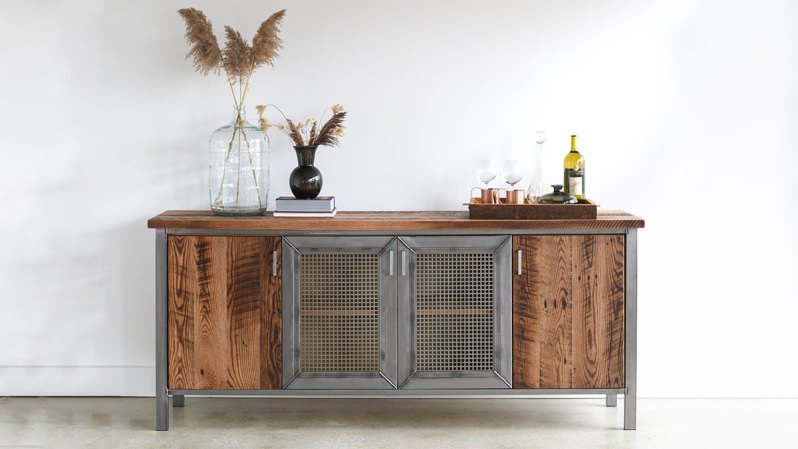 Before we let you go back to building, anything else you'd like to add?
We believe in finely crafted, handmade, reclaimed wood furniture. We believe in attention to detail and making things that will be passed on for generations. We believe that furniture should make a statement and stand the test of time. What WE Make, makes us. We believe this and put that belief into every piece from What WE Make!
Now that you've learned about the company What We Make and the quality furniture they craft, check out their shop to find the right piece for your space. If you can't find what you're looking for, feel free to reach out to Mr. Quinn to design the piece you want!