Cold feet are a killer when you're outside in the winter.
Whether you're out for a short hike with the dog, exploring some winter camping, or just making the trek from your car to the ski lodge, the right boots can make even the snowiest days more fun. We've been testing Vasque Footwear's all new Lost 40 Boot ($180) this winter, and it hits all the high notes for extreme cold and snow.
These sturdy boots get their name from famed Lost 40 Scientific and Natural Area in Minnesota. One of the last places in the state to feature first generation Red and White pine growth, in the winter this area is renowned for being cold and inhospitable. With that inspiration, the Lost 40 boots are built with harsh weather and hard use in mind.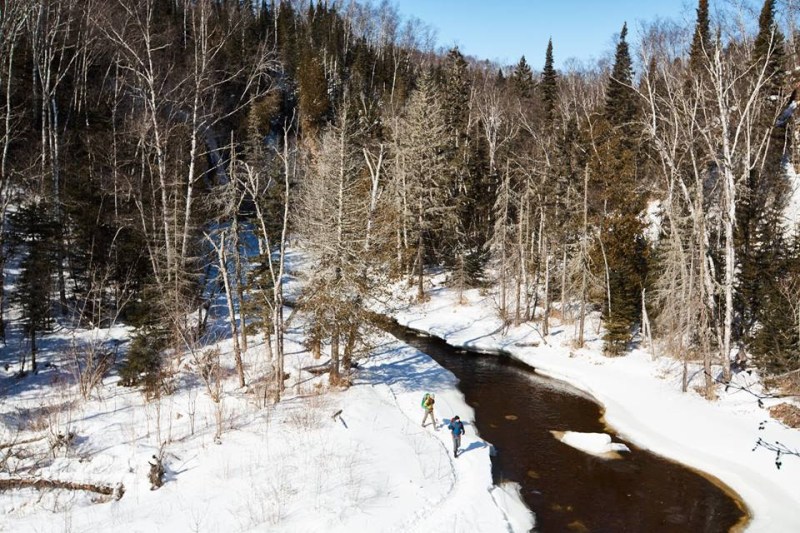 Fit
The first thing you'll notice when trying them on, is that the dual construction, mukluk style upper can be a little tough to put on without some practice. The outer boot is a combination of supple, 2mm rough-out leather, and softshell material, that have been waterproofed. Inside that is a 7mm felted wool liner. Together, they make for a snug fit in the ankle while pulling them on and off that a couple of our testers had some trouble with at first. Allow them to warm up on a hike or two though, and the wool liners will slowly mold to your feet, helping you both with fit and warmth.
The toe-box is especially roomy, and lends itself well to wearing thick winter socks – although we got the best results with a midweight sock that left us a little wiggle room for air to circulate. It's helpful that there are two lacing systems, letting you snug up the upper portion, while leaving your toes and mid-foot unrestricted. We found that especially nice when we wore them for long periods and wanted to loosen them up a little around camp after a long day on our feet.
Warmth
We hiked, camped, and pedaled fat bikes in the Lost 40 down to -10°F with no issues. The liner's felted wool is soft and warm. What's more, the midsole is made from AeroGel, which offers the absolute best warmth-to-weight ratio of any insulating material for boots and apparel. You wouldn't think this would be important, but after spending long hours in the snow, you will start to lose quite a bit of body heat through your soles. Vasque's AeroGel solution solves that with ease – we wore them for 18 hours in below zero temperatures and never noticed the cold.
Durability
The Lost 40's are built to withstand extreme weather, and it shows. Lacing eyelets and seams are all double stitched. The felt liners are incredibly sturdy. Outsoles are Vibram's Icetrek rubber, which gives you excellent grip on snowy conditions. However, it was specifically built for snow and ice, and so is a softer sole – the better to flex and expand for traction. We don't recommend wearing it regularly on pavement as an around town boot, or out on rocky trails, or you may wear the outsoles out faster than you'd like.
Whether you're an experienced winter hiker, love to camp out in the extreme cold, or are just building your cold weather kit for some upcoming adventures, the Lost 40's are your best bet for snowy days.
Editors' Recommendations