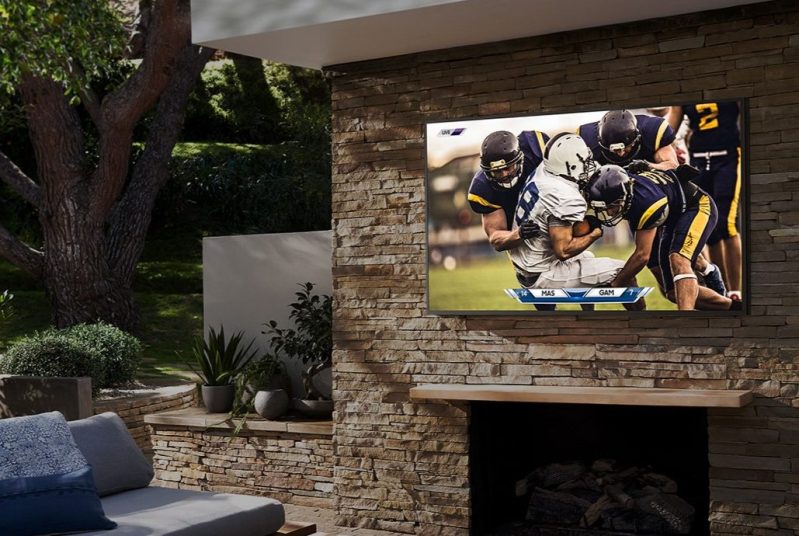 While there are a lot of TVs catering to the average living room, for those who have outside patios and spaces, there aren't a lot of options. Having to contend with dust, rain, and other parts of the weather that electronics don't fare well in, it's no surprise that a lot of TV manufacturers don't really bother with making TVs focused on the outside. Luckily, Samsung has your back, which is good because it's a company that excels in making great TVs, and in this case, we're talking about The Terrace TV. Not only is it IP55 rated, which means it can handle both dust and rain relatively well, but it's also a QLED TV, which gives you an excellent picture and a high peak brightness, so the sun won't interrupt your viewing too much. If you're interested in grabbing one of The Terrace TVs, you better act quickly, because Samsung's Discover sales event is going to end soon, and you'll miss out on a great couple of deals, including and a whopping .
Why you should buy a Samsung The Terrace QLED outdoor-ready TV
Thanks to QLED technology you get 100% color volume with the Quantum Dot system, for an incredibly clear and vibrant picture. But with most TVs, if you place them outside, even under shade or without direct sunlight, the picture is difficult to see, even at full brightness. That's not the case here with Samsung's The Terrace TVs, as they were made for the great outdoors. They come with IP55 dust and water resistance, but also wide-angle viewing angles and anti-glare support depending on what kind of sun exposure you can expect. You can choose between partial sun or full sun models, the latter meant for direct sunlight beaming down onto the screen.
Samsung The Terrace Partial Sun models come in , at $500 off, , at $1,000 off, and 75 inches, which is currently sold out. For the Full Sun variety, you can choose between at a whopping $3,500 off, or at $4,000 off. Needless to say, those savings are incredible for any TV let alone someone you can use or mount outside.
Of course, they're also smart TVs with streaming support right out of the box through Samsung's Tizen platform. You can stream all your favorite shows or movies across Netflix, Disney+, Prime Video, Hulu, and much more. But what you're more concerned with is the live sports and the next big game. Those are available through your preferred providers, like NFL Sunday Ticket. 4K AI upscaling ensures even standard high-definition content looks fantastic at all times. Plus, with tap-to-mirror functionality, you can beam your favorite mobile apps and content right to the TV with the tap of your phone — you will need a Samsung Galaxy device running a minimum of Android 8.1.
It doesn't matter which model you choose; they're all excellent for outdoor viewing. It's also one of the best ways, bar none, to catch a game outside — in the comfort of your own home, with fresh air, lots of snacks, and cold beverages. You can also have some company join you for a great barbecue or sports party. It's your call.
Editors' Recommendations