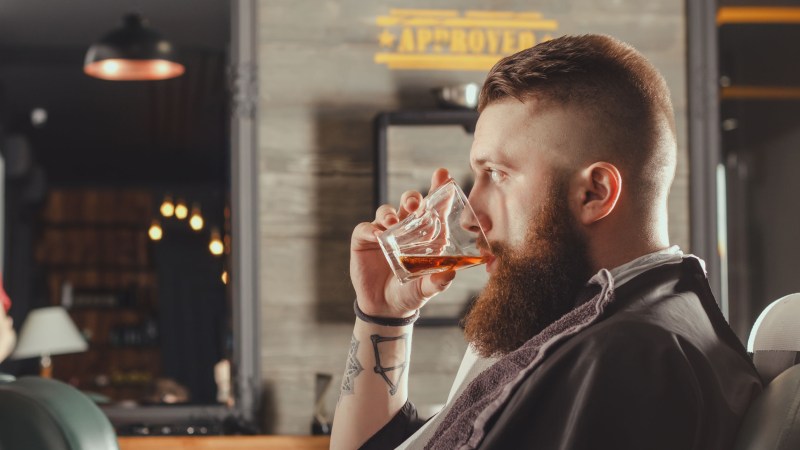 With the opening of their second barber shop in Long Island City, we thought it would be a good time to chat with Shawn Dixon and Kirk Riley, the co founders of Otis & Finn about spring haircuts, beard maintenance, and bourbon.
You just opened your second store in Long Island City. What kind of style inspiration do you take from the neighborhood?
With both shops it was very important for us to become part of the neighborhood, as it existed as opposed to trying to change the neighborhood. We have been in Queens for over 10 years and have been hanging out in LIC for just as long. Queens has a unique character and sense of community and the people that live here understand it, appreciate it and celebrate it – including us. Our goal has always been to build upon that sense of community with our shops.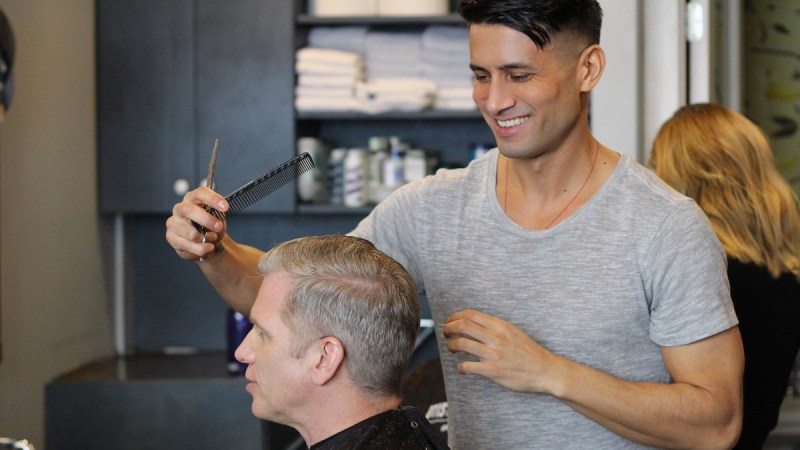 LIC is very industrial and there is a lot of great art and artists in the neighborhood. In fact, the first thing that drew us to start spending time here was MoMA PS1, which is now our neighbor at Court Square. In keeping with that vibe, we tried to make our shop designs industrial, but also a creative expression of us so the clients can feel comfortable and get a sense of who we are just by walking in the door. One of our clients coined the phrase "flamboyant industrial" to describe our shops. I love that phrase and think it describes us perfectly.
We're looking forward to spring. What kind of cuts should our guys be asking for this season?
In general men's hairstyles have moved away from the slick, perfectly coiffed hair that had been dominating the scene for a while. Now guys should be asking for more texture in their hair. In fact we are doing a lot of textured bangs and fringe. Guys shouldn't be afraid to wear their hair a little on the loose/messier side now instead of the sculpted rockabilly look.
In general, how often should guys be visiting their barber?
It really depends on the cut. As a general rule, however, our barbers recommend every guy see his barber at least every 4-6 weeks no matter what kind of cut he has. Even with long hair that is enough time that your hair will need to be maintained and shaped. For short hair, guys will need to visit more frequently. If you keep a fade you probably will need to come every 2-3 weeks depending on how fast your hair grows and how tight you keep your fade. We have several guys who keep a tight skin fade and so they come every week. People sometimes forget that your hair is part of every single first impression you make, so it's important that it's well groomed and projects the image you want.
If you were limited to using just one styling product, what would it be and why?
Right now we would go with Uppercut Matte Pomade. The great thing about this product is that it's malleable, but it doesn't give you the high shine of regular pomade. You don't want shine with the textured look and this product is great at enhancing the texture without leaving your hair looking glossy. We've been carrying it since it came out two months ago and our clients love it.
Do you recommend any kind of spring pruning or conditioning for bearded guys?
When you have a beard, conditioning and pruning is a year round job. Guys sometimes think they can just let their beards grow out without any sort maintenance and that just leads to a sloppy unkempt look. If you regularly get your beard trimmed and shaped, you can keep a great professional look no matter how big the beard – and it's a great look. Just like in winter, you need to condition and moisturize your beard and the skin under it. A lot of our barbers like Argan Oil for beard and skin maintenance, but no matter what you use you have to keep it moisturized and healthy.
Rumor has it, that you guys have a generous bourbon cart. Why bourbon?
I am from Kentucky and that's where most of the world's bourbon is made, and it is my drink of choice. There has of course been a bourbon renaissance in the past decade and now it's distilled all over. That said, when it comes to bourbon we stick to our roots and we give our clients a sip of Four Roses. It's distilled in Kentucky and is a fantastic and surprisingly smooth bourbon, especially for its price point.