We can all agree that the fake national holiday situation has gotten out of control. Sibling Day! National Fresh Breath Day! Lumpy Rug Day! National Bourbon Day!
Okay, that last one we can wholeheartedly get behind. To celebrate this momentous occasion on June 14, you can, of course, sip your favorite bourbon, but this year you may also want to avail yourself of a bourbon-inspired, albeit alcohol-free grooming regimen. Cheers!
Inspired by the scent of none other than the Buffalo Trace Distillery, Duke Cannon's solid bourbon-scented cologne is a great way to celebrate National Bourbon Day without getting a hangover. The concentrated balm melts with the heat of your fingers, allowing you to place it anywhere you might need a refreshing whiff of whiskey. It's also TSA and travel friendly.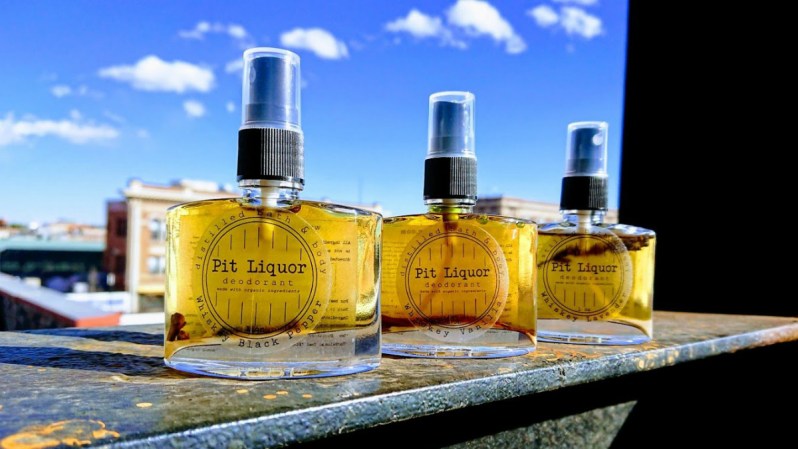 The name definitely leaves something to desire, but the scent of Distilled Bath & Body's Pit Liquor does not. With fragrances like Whiskey Black Pepper, Whiskey Vanilla, and Whiskey Lavender, there's a whiskey + botanical combination for every man. Oh, they're also all-natural, too.
If a bourbon smelling cologne is a little much for your senses, try Drifter Grooming's El Dorado Whiskey Bar Soap. Sandalwood, fir, bergamot, lemongrass, and El Dorado hops all combine in this soap to create a woodsy, smokey, bourbony scent that will have you feeling like a Kentucky Colonel right out of the shower.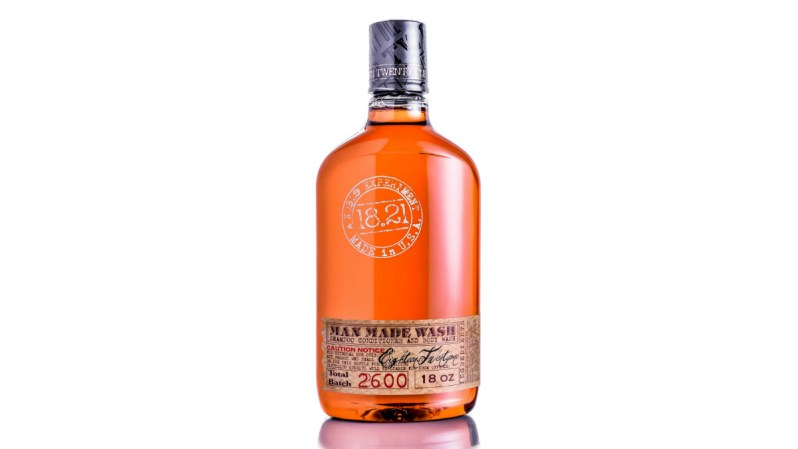 An all-in-one shampoo, conditioner, and body wash, 18.21's Man-Made Wash is paraben and sulfate free with "Macadamia Glycerides, Hydrolyzed Quinoa and Hydrolyzed Jojoba Esters to bind moisture, provide sheen and strengthen the hair & skin." The bottle also looks like you just brought it from the bar, too, meaning it will look as great in your shower as it smells.
Portland General Store Whiskey After Shave Splash – $18
Alcohol-free, Portland General Store's Whiskey After Shave Splash contains sea kelp extract, blue-green algae, organic aloe vera juice, and tea tree essential oil to help nourish and disinfect the skin just after shaving. And, with its delightful whiskey scent, you'll smell like grizzled old sea captain you've always wanted to be.
Are your legs as dry as the exterior of a whiskey barrel? If so, you definitely need a bottle of A.J. Murray's Kentucky Bourbon Lotion. With notes of vetiver and cedar, along with with bourbon, cognac, palmarosa and rose, the lotion ends with a slightly sweet note–just like your favorite sippin' bourbon.
Patch NYC Pipe Eau de Cologne – $47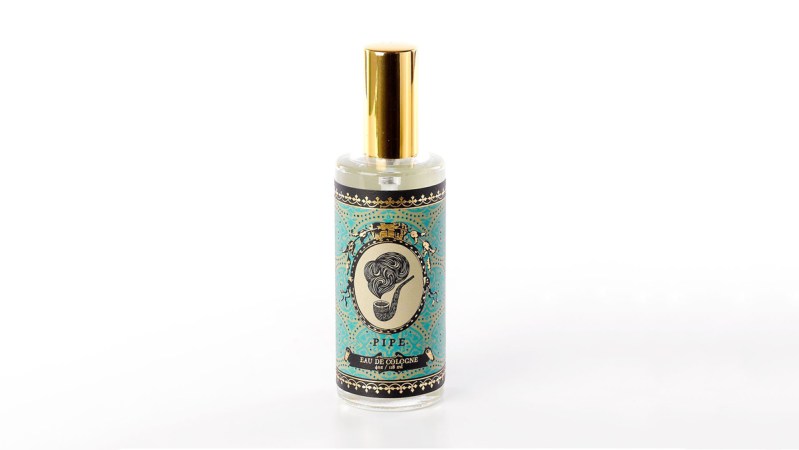 Smelling of an old-timey man cave (think worn leather armchairs, pool table, and a well-stocked bar cart), this hand-poured blend of bourbon, cognac, and tobacco is as rich as it sounds.
This cedar, bitter orange, black pepper and cinnamon scented balm, is a delicious alcohol-free rendition reminiscent of the namesake cocktail. It tastes oh so good when it hits your lips.
Noble Isle Whiskey & Water Hand Wash – $29
We're just going to leave the brand's own product description right here, because they said it best: "A liquid gold redolent of the finest oak-aged single malt with warm vanilla and cedarwood on the nose and skin-calming extract of Scottish malted barley." Sounds good enough to drink (but you probably shouldn't).
See It
Editors' Recommendations