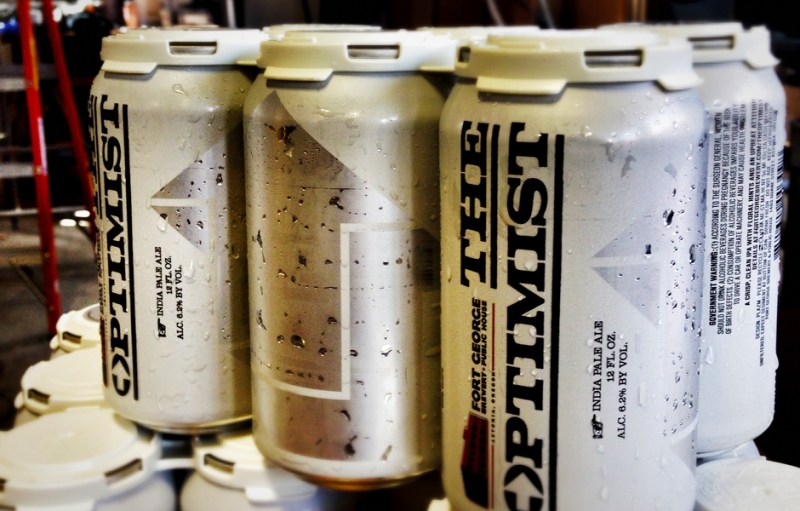 There's nothing wrong with beer bottles — except that they're heavy, break easily, and are even known to skunk your beer given a little bit of light (regardless of the bottle color).  The next time you go out on a river float trip, or need a few beers to crack at the top of your hike, don't assume cheap domestics are the only beer you can get in cans.
Fort George, a small obrewery based out of Astoria, Ore., brews beers in exciting Northwest styles. Not only is the beer terrific, but the brewery packages its beer in 16-ounce tallboy cans, so they're perfect for your upcoming outdoor activities. "We're all about giving people options," co-owner Jack Harris says, "and cans. Cans are great for beer." This summer, in addition to its Three-Way collaboration IPA that's been flying off the shelves, Fort George has begun packing their classic Quick Wit and new Optimist IPA into conveniently sized 12-ounce six packs.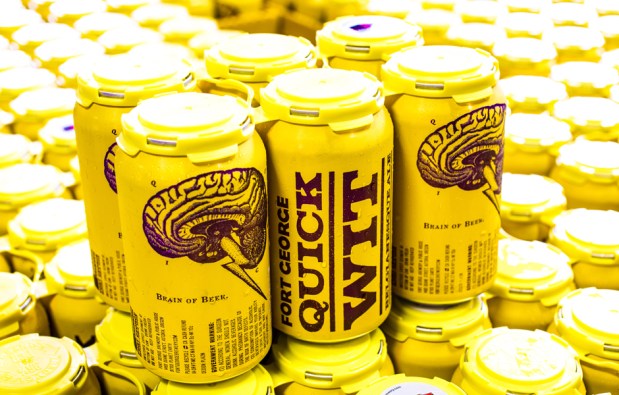 The Quick Wit is a subtle, floral ale seasoned with elderflower, coriander, and lemongrass as a reflection of the bright citrus flavors of traditional Belgian ales. It's a tasty brew that's designed for drinking straight from the can, one refreshing and light enough for the end of your afternoon bike ride. Fort George's new beer, The Optimist, is all about simplicity. Centennial, Simcoe, and Calypso hops bring together floral, citrus, and crisp fruit on top of a light, organic, 2-row base. The Optimist pours a bright golden color, with an aroma of pine and fresh produce, if you decide you want to drink it from a glass. Still, it's great right out of the can, too.
Fort George is exclusively a Pacific Northwest brewery, distributing to Oregon, Washington — and as of this summer — Idaho. Check out the Fort George website for more information, or to use the convenient beer finder.
Editors' Recommendations