The best kinds of calls we get at The Manual is when a brand reaches out to work with us because they are fans of the site and want to associate with the lifestyle of our readers. It is equally exciting when that brand is one we respect!
We got the call from I.W. Harper several months ago and we are delighted to be working with them on events both in Portland and Charleston. The reason for the pairing is to raise awareness of this exquisite Kentucky Straight Bourbon Whiskey that has been unavailable in the U.S. market for 20 years. While the brand was pulled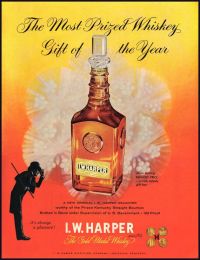 in the 90s (to focus on the Asian market since vodka/gin were the basically the only spirits American's were drinking), the story of the whiskey stretches back to 1872 when Isaac Wolfe (I.W.) Bernheim opened his own distillery in Kentucky.
The brand became an instant hit and was duly recognized with numerous gold medals throughout the late 1800s and early 1900s, most famously taking the Gold Medal at the Chicago World's Fair of 1893. Throughout the years, I.W. Harper continues to grow, becoming the gold standard around the world (their vintage ads are legendary) and is even the bourbon of choice on many luxury ocean liners (the private jets of their day). The brand landed it's cult status when Ian Fleming mentioned it in one of his James Bond novels, "On Her Majesty's Secret Service," and was even included in the film of the same name.
Now the company is back in it's homeland and reintroducing itself with much fanfare.
We kicked off our collaboration Wednesday night in PDX with good friends at the cities coolest new restaurant, East Portland's Bit House Saloon. We were welcomed by their celebrated bar manager, Jesse Card. He was an amazing host and did not let us leave without trying five different bourbon cocktails (Hello, Uber!). 
Between drinks we feasted on buttermilk cheddar biscuits with pepper jam, Armadillo eggs (holy moly) as well as a serious meat board and excellent entrees. As the night went on and the drinks kept coming, laughs rang louder, stories became funnier and pictures got blurrier. We think Mister Bernheim would approve.
If you want to follow along with our Harper Happenings, follow #IWHarper and see what we are up too.
Editors' Recommendations