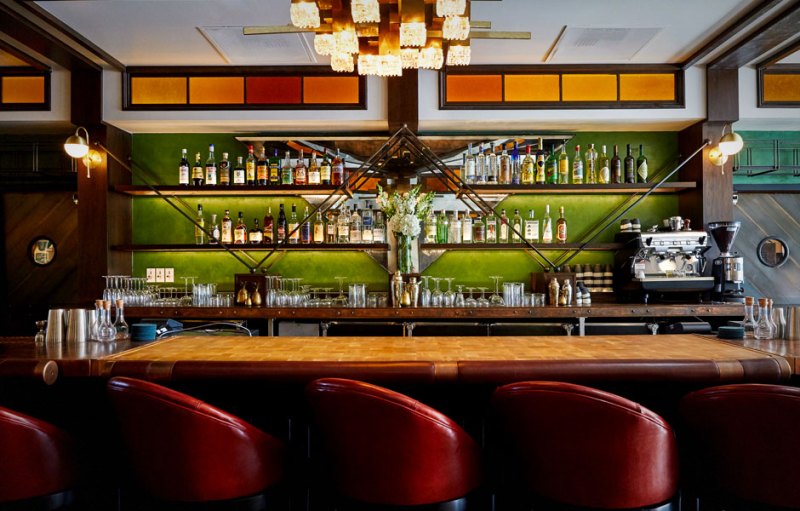 All the glamor of travel is in the newly opened Westbound. It is as though you've stepped into the first class train car in a bygone time of sophistication and service. There's a reason for that: Westbound is located on the former site of the Santa Fe railway station. Now it's a hub for incredible food and drinks, old favorites with adventurous twists and new ideas based on global flavors. Head bartender, Dee Ann Quinones, who helped create the drink menu, talks to us about all things cocktails.
First, let's set the scene: Westbound is all about service and attention to detail. The travel/train theme is incorporated elegantly and with a light hand– it doesn't smack of a theme park. Westbound has a surprisingly modern feel for such a vintage-inspired design: bold earthy paint colors, rich woods and chocolately leathers, with copper on the bar and Pullman booths at the tables. There's also a patio outside flanked by olive trees.
Dee Ann Quinones is right at home in Westbound, a world traveler herself, who first met owner Sarah Meade in New York when Quinones was managing Booker and Dax. The two kept in touch and, when it came time to open Westbound in May of this year, Quinones was Mead's choice for Head Bartender. It's a natural fit. "Travel is a big theme in my life," Quinones says. "Right before I came to LA, I was traveling around the world for two months visiting 12 countries. Travel is where most of the inspiration for my cocktails comes from. I'm always trying to replicate the taste and feel of the various food, cultures, colors, and experiences that I have been exposed to. I've been to 48 countries in total. We're lucky to have a travel theme to Westbound, there is always a narrative or story to start from and we're always on the move."
Once she's got that inspiration, how does she create a new cocktail? "Usually, I start with a flavor – something I'm looking to explore or take to the next level. Everything is flavor-focused. I like to see how I can make this 'flavor' as good as it can be in a cocktail, and translate that to the everyday guest." The Conductor looks especially intriguing: Buffalo Trace Bourbon, Black Sesame, Tamarind, Egg White, and Lemon. Quinones' current favorite is The Westbound & Up: Vida Mezcal, Chipotle Honey, Lemon, Orange Bitters, and Lime. "It's a fantastic mezcal cocktail," Quinones remarks, made even tastier given Westbound's commitment to using local and seasonal ingredients.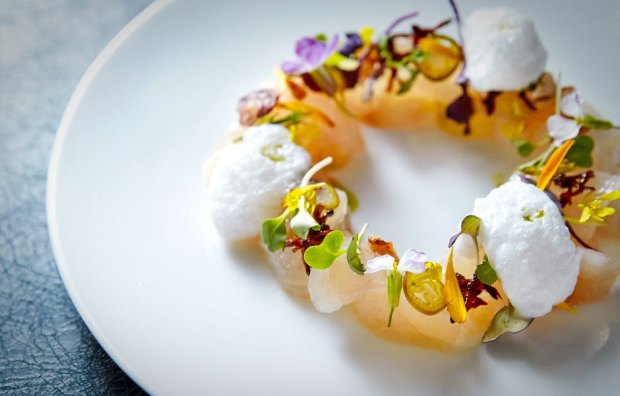 Food is another important aspect of Westbound and for that Mead turned to Executive Chef Gary Nguyen, formerly of Alma and Mélisse. His menu, too, reflects the global travel aesthetic in a playful, daring way. The small plates include delicious options like Foie 'n' Waffle, and the Beet Trifle, which is beet meringue, orange cake, brandy caramel, and spring herb ice cream.
"Pairing food and cocktails are my favorite." Quinones collaborated with Nguyen to develop drinks that would enhance the dishes. "We don't have to be limited by wine. Cocktails can take it so much further. Gary (the executive chef) and I work very closely together on flavor profiles and trying to complement existing and new menu items. Our French 75 [Rutte Gin, Lemon, Simple, Bubbles, served in a champagne flute and a lemon twist] pairs perfectly with our beef tartar. The cocktail is light and its acidity does well cutting the richness of the beef." The menu offers a helping hand, suggesting drink pairings with food, but the extremely friendly, knowledgeable staff is there to help.
So, what does cocktail master Quinones recommend as the perfect choice for summer grilling? Mezcal. Think their Westbound & Up cocktail: "The smokiness of the mezcal is great for the BBQ char; the chipotle honey and lemon give it that tart and spice that you want with a burger."
This eatery and bar is destined to become a favorite spot among Angelenos. With such a talented staff, dedicated to providing top tier service, unique food and drinks, and a decor that might as well be a time machine to a better era, you won't want to get off the Westbound train.
Editors' Recommendations