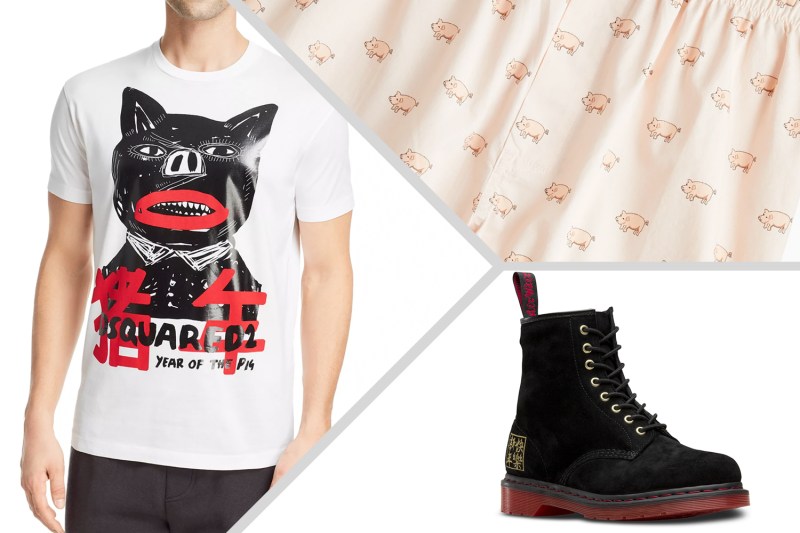 Earlier in February, celebrations of the Lunar New Year officially ushered in the Year of the Pig. In the Chinese zodiac, "signs" are assigned to years — rather than months, as in the Western tradition — rotating every twelve years. If you were born in 1971, 1983, or 1995 this is your year!
If this is your year, however, according to Chinese New Year, be careful: It's viewed "as a hurdle you have to jump over." The site recommends protecting yourself from evil spirits, bad fortune, razor burn, and bad fashion choices by wearing red underwear every day for the year (okay…we snuck in those last two). They also recommend that, if you're married, don't go out at night without your wife. One horoscope suggests that March could be very good for you hogs, with luck in both your career sector and your love lives!
Of course just like Western astrology, people born in each of these years are supposed to share certain characteristics. "People born in the year of the Pig think logically and are able to fix whatever problem they're in. They aren't good communicators, but they're kind and able to provide for the family. Most of them are wealthy. Their only obvious fault is that they lose their temper easily." Hey … if you're bringing home the bacon on the regular, I guess we can forgive a little squealing here and there … just don't be piggy about it.
It's also a tradition in the Chinese New Year to buy new clothes, so to help indulge your celebratory nature, here are a few suggestions for products proclaiming our terrific, radiant, and humble porcine fortunes. Wilbur, grab a couple of these and you'll really be "Some Pig."
J. Crew Mercantile Flying Pigs Boxers
Not quite red, but pink's close enough for us. These jaunty printed boxers are made from comfortable 100 percent cotton and, if you look closely enough, every so often you will spot a flying pig. Great as underwear, they're also perfect for lounging around the house on those evenings you're avoiding going out with your wife again.
Brooks Brothers Year of the Pig Long Sleeve Polo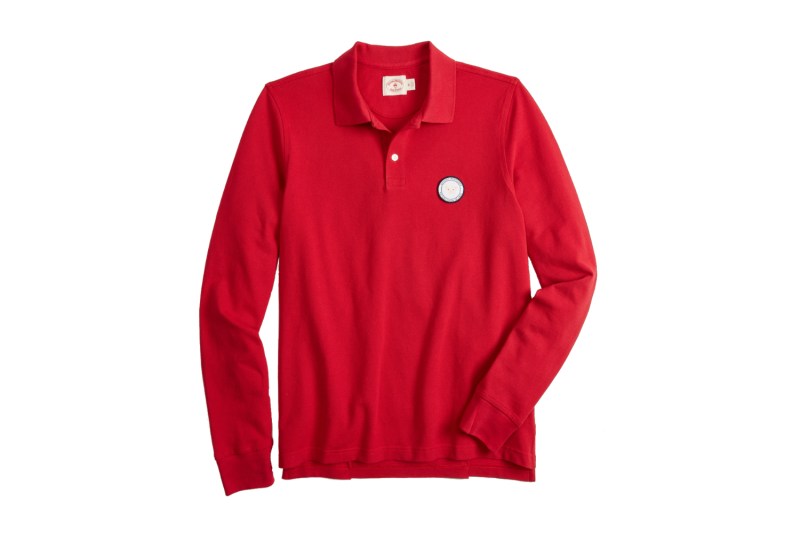 Part of a passel of celebratory products from iconic retailer Brooks Brothers, the simple, yet jocular emblem is a classic expression of this year's figure. Brooks' pig is also available as a sweatshirt or printed large scale on a short-sleeved graphic tee. Just the thing to impress all the other swine at your upscale anger management class.
Year of the Boar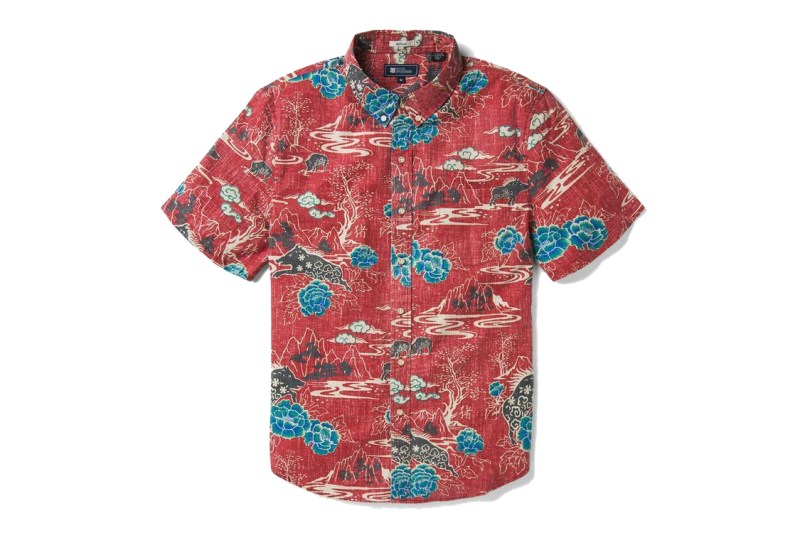 Featuring the brand's special "Weekend Wash," the Year of the Boar shirt comes out of the package with a soft, relaxed feel. This mellow vibe is complemented with a gentle pattern of mountains, palm trees, flowers, and — you guessed it! — soaring wild boars in honor of the year of the pig. Pair under a dark gray sweater for a fun pop of color at your next work happy hour.
DSquared2 Year-of-the-Pig Graphic Tee
Talk about putting lipstick on a pig! DSquared2 adds a rock-and-roll, graffiti-art edge to the season with this classic cotton t-shirt in a slightly fitted silhouette. Wear this when you grab two of your friends and head out to blow the house down at your favorite hot spot. Bacon Old Fashioneds are not optional.
Gucci Piglet Wool Jacquard Sweater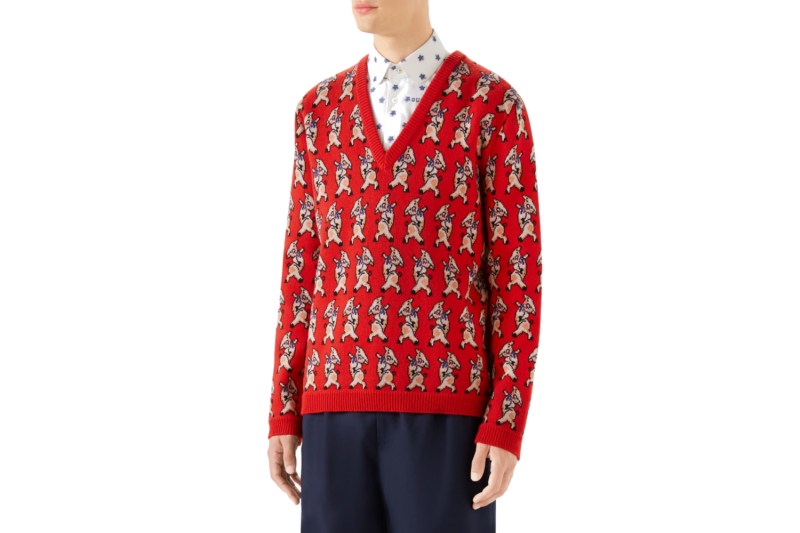 OK, this is a wee bit beyond the price that we'd normally recommend for a sweater, but with its deep V-neck and jacquard finish styling, it's right on trend for the season and, after all, it's made in Italy. Think of it as an investment in your wealthy side … if not your logical one.
Paul & Shark Yachting Year of the Boar T-shirt
How boar-ing. Paul & Shark's limited edition T-shirt features this porcine character dressed in a classic nautical sweater, red stocking cap, and horn-rimmed glasses.
Swatch Gem of New Year Watch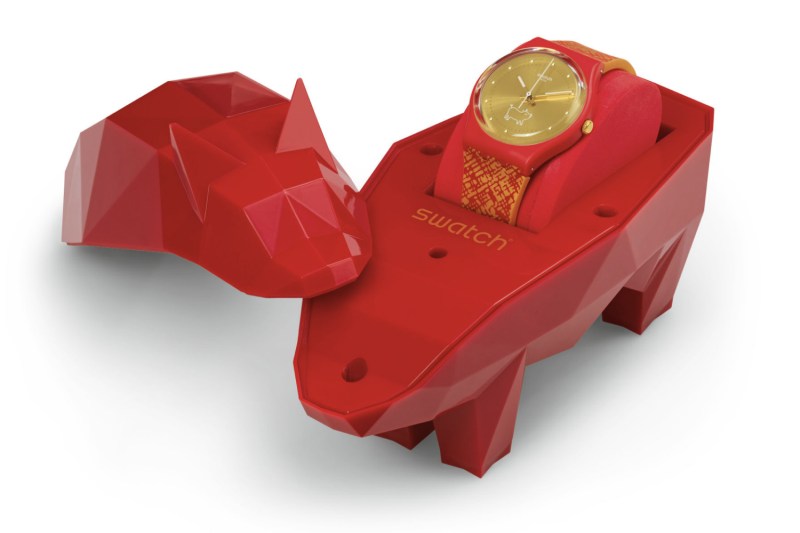 Complete with its own pig-shaped "gem" case, the Swatch features a gold face and a gold and red patterned band in Swatch's iconic minimalistic styling. Red and gold are particularly lucky in Chinese culture, so maybe this watch will help you communicate what time you're planning your next meeting more clearly.
Dr. Martens 1460 Chinese New Year Boot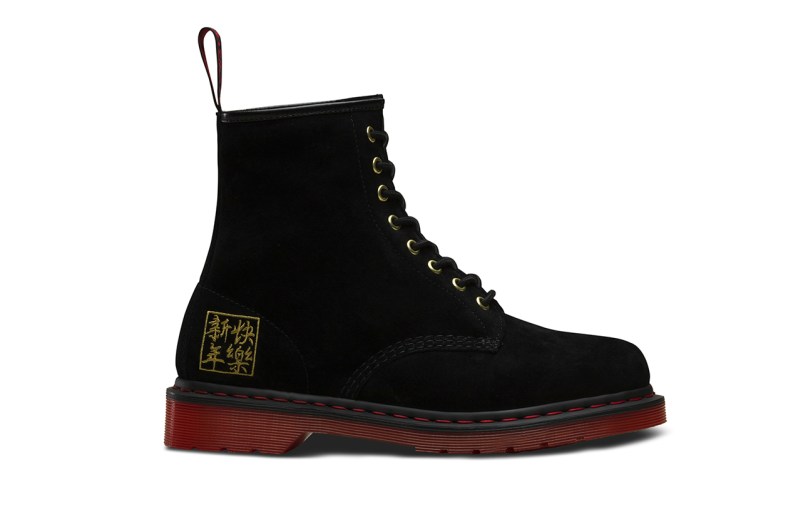 It's Dr. Martens' classic 1460 model, cast in luxurious black suede with lucky red and gold accents. The Chinese symbol for "Happy New Year" is embroidered in gold thread on the heel. Perfect for stomping around all those firecrackers that get thrown at your feet on Chinese New Year's day.
4505 Chicharrones Fried Pork Rinds Variety Pack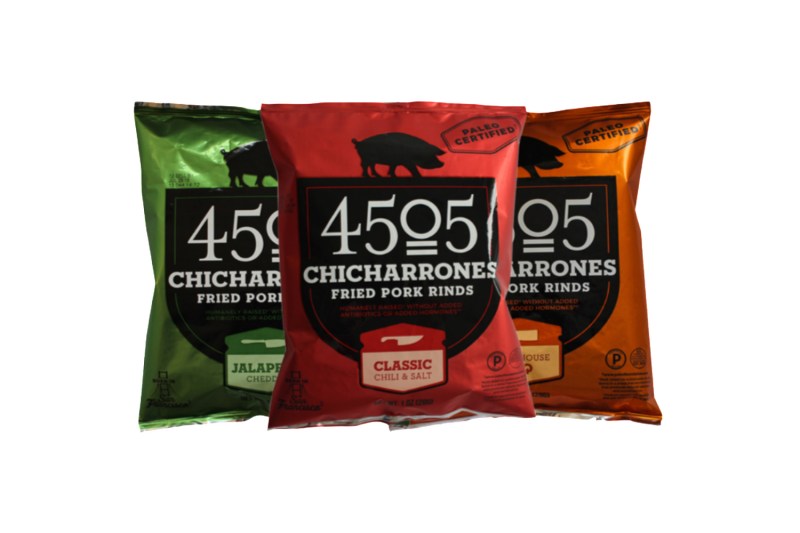 Okay, so you can't wear chicharrones. But, aren't you hitting that Keto diet hard to prep for beach season? If so, celebrate your gains and the new year with some fried pork rinds. Logically, you'd want to choose a variety pack like this one, featuring eight each of chili and salt, jalapeño cheddar, and smokehouse barbecue one-ounce bags of rinds. Snort.
If you'd rather eat your pig than wear one, learn all about how to cook a great tasting ham here.
Editors' Recommendations