Travis Scott recently released another unexpected collection of merchandise branded with his name. We all remember the release of his video game controllers, his partnership with Reese's Puffs cereal, and when he made himself into an action figure — just in case you missed the Fortnite concerts. Now he's stamping his name on hand sanitizers and face coverings with his "Pandemic Survival Kit."
If there was any further question on how COVID-19 has changed the face of streetwear, last week the 28-year-old rapper released a Cactus Jack logo capsule collection of "everyday safety items," including a Cactus Jack hand sanitizer ($12), a Cactus Jack cloth face mask ($25), and a Cactus Jack SafeTouch hygiene multi-tool ($30), which is more reasonably priced compared to his past merch drops like his infamous $120 Astroworld t-shirts.
Infused with an agave fragrance, his sanitizer contains 72% alcohol and "kills 99% of germs … La Flame burns the other 1%," which is a questionable breakdown for an essential product (the CDC recommends hand sanitizers contain at least 60% alcohol).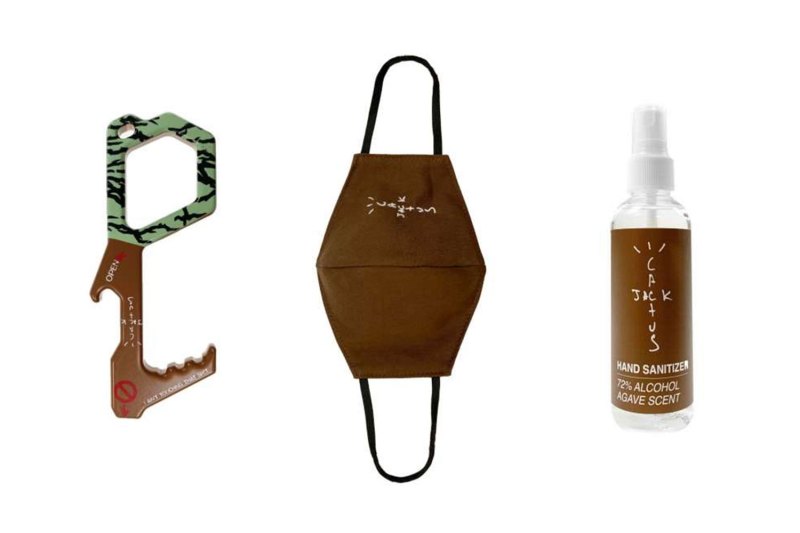 Meanwhile his Safetouch multi-tool is a plastic contraction that's said to be covered with antimicrobial powder that allows you to press and open surfaces like doors and elevator buttons, and its handle is emblazoned with a pandemic-appropriate mantra, "I ain't touching that sh–." As a bonus, it has a built-in bottle opener for social distancing hangouts.
The face mask, also logo embroidered with Travis Scott's brand, is 100% cotton, but has a disclaimer that reads "are neither medical devices nor personal protective equipment. For the avoidance of doubt, the use of cloth face coverings does not protect you against COVID-19, and is not intended to replace recommended measures to stop the community spread of COVID-19, such as social distancing, washing your hands, and refraining from touching your face." Leaving us to wonder if the pandemic safety essentials are actually essential or a marketing take on fan merch.
Although it's a fun and punchy capsule collection, it obviously caters to the "Astroworld" rapper's nostalgic fan-based reminiscing of the days of concerts and party gatherings (aren't we all?) more than CDC health guidelines. It's important to note that these items shouldn't stand in place of PPE when out in public or densely populated places. With the sold-out success of the launch, you can sign up for updates on a possible restock at shop.travisscott.com.
Editors' Recommendations