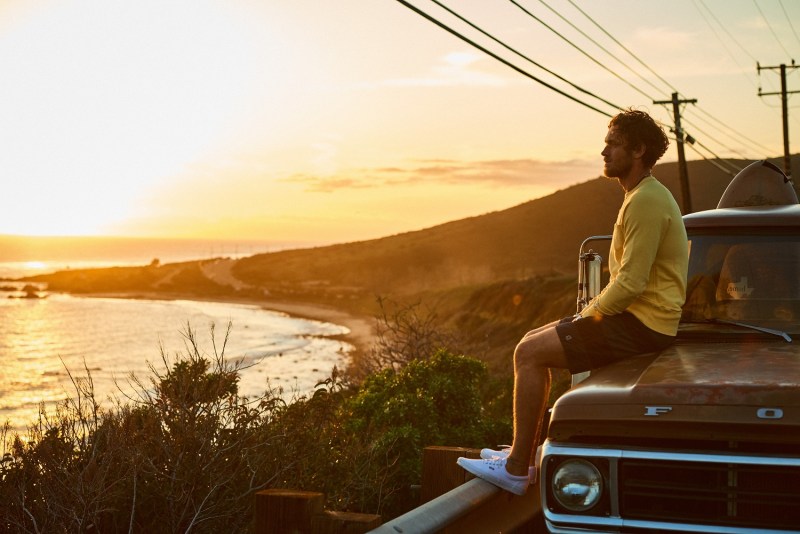 If you've got summer style on your mind, you need to check out the new collaboration between Todd Snyder and Birdwell Beach Britches just as soon as you can. Even if the sun and sand feels a bit far off, the new collaboration from the famed American menswear designer and the iconic surf brand will definitely get you in the right mindset.
Released late last month, the Birdwell Beach Britches for Todd Snyder collaboration considers every part of your stylish beach gear haul, and then some. The collection features updates to Birdwell's iconic board shorts, plus handy extras like an exclusive Birdwell for Todd Snyder beach towel and an updated Birdwell Competition Jacket that plays off Mr. Snyder's penchant for excellent outerwear.
With nearly 60 years of authentic heritage — the brand launched in Santa Ana, Calif., in 1961 — Birdwell was an ideal brand partner given its iconic style and commitment to quality, Snyder said.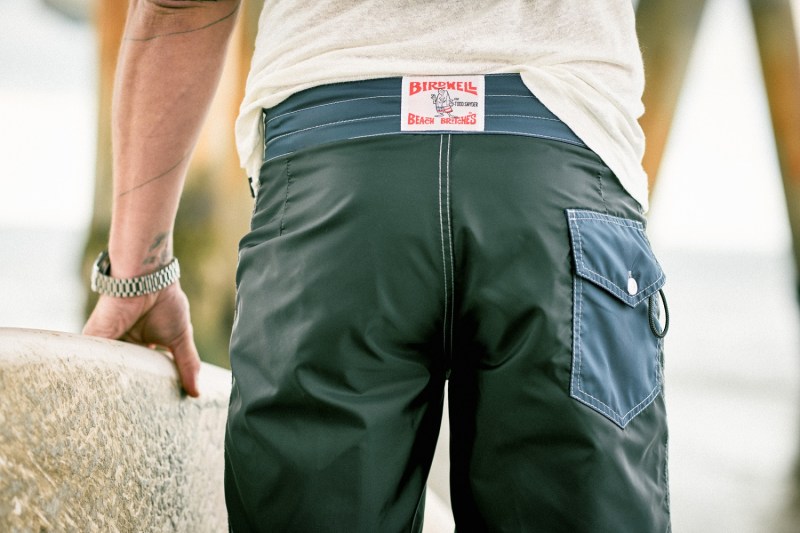 "It's such a great story — it was almost like this time capsule," Snyder said of exploring the brand's history. Indeed, a book of surfing photographs that sits alongside the collection in Snyder's Madison Avenue store showcases page after page of authentic Birdwell board shorts on beaches far and wide. "They've been a part of this history."
Like the designer's recent collaboration efforts — from the standout Timex x Todd Snyder Mod Watch to the weather-ready Todd Snyder + P.F. Flyers sneakers — the collection plays off a feeling of vintage Americana brought forward into the 21st century.
It's Birdwell's heritage — loved and worn by everyone from surfers, lifeguards and vacationers for decades — that proved so intriguing, Snyder said.
"It doesn't get more authentic," Snyder said, adding that he's worn the brand's durable swim trunks for years. Snyder put his own spin on Birdwell board shorts for the collaboration, taking the Birdwell board short and adding New York-inspired black-and-blue colorblocking.
For $168, the Jailbird Stripe Board Short is as premium and stylish a pair of swim shorts as you'll find. The collection's other board shorts, which start at $138 and feature clean combos like red and white, are just as worth the purchase price. Truly, your next pair of stylish swim trunks just got a significant upgrade this summer.
The Birdwell team also welcomed the chance to explore the brand's deep history and put a unique spin on recognizable silhouettes, said Birdwell President and CEO Geoff Clawson, calling the brand's heritage "a great canvas" to work with.
The Birdwell team has also admired Snyder's focus on updating heritage styles for the everyday guy, another benefit of the partnership.
"It was born of a mutual admiration," said Birdwell's creative director, Natas Kaupas.
Looking at the collection, it's clear that it's an effort that plays to each side's strengths. With a mix of crisp block colors and Birdwell's recognizable logo blended with Snyder's eye for well-considered details — right down to a retro-inspired red-and-white striped tee — the offering is a far cry from standard beach-going fare, and consumers are all the better for it.
If a swimsuit upgrade is on your horizon, rest assured that the Birdwell Beach Britches for Todd Snyder collaboration features premium durability in addition to major style points. Experienced in sewing and tailoring, Snyder closely examined the clean stitching on a pair of board shorts at his Madison Avenue store: "That's really hard to do!"
When it comes to the Birdwell Beach Britches for Todd Snyder collaboration however, looking good at the beach this summer should be easy.