Another season of NYFW (New York Fashion Week 2018 y'all!) is wrapping up and we braved the freezing NYC temperatures, the hordes of Street Style photographers, and even stayed up way past our bedtime to attend designer's after parties–all to report back on the trends you will be seeing roll out for this fall/winter 2018. While London, Paris, and Pitti Uomo are all hot ticket towns for menswear, we always love seeing what our guys in New York have in store for us. It can span from classic to urban and everything in between.
A Few Show Reviews
Kicking off Fashion Week with his first show dedicated exclusively to menswear, Ford offered up his never-shy looks, complete with gold- and silver-metallic, handsomely cut blazers, tiger camo, and snakeskin patterned everything. But it wasn't all an ode to 90s Gucci (we see what you did there Tom!); you can't go wrong with a Tom Ford suit (we love the gray/black plaid one), but his outerwear is what really peaked our lapels. From buttery leather boxy jackets (cut like your favorite denim one) to seriously puffy parkas (from basic black to snakeskin) and one aviator jacket that would bring Lindbergh back from the grave, Ford's coats and jackets are exquisite. His sportswear was exciting to see, too, with well-made bombers, hoodies, and even fitted sweatpants. If you really can't afford Ford's high-end pieces, he debuted a new underwear line at the show, which may just be more in line with your credit limit.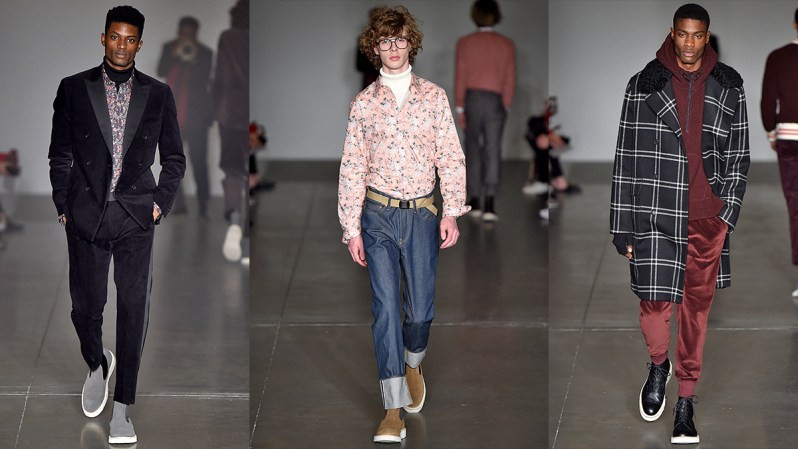 Referencing the iconic book, Jocks and Nerds, as well as London's eccentric swinging 60s tailor, Tommy Nutter, Snyder rolled out a colorful collection that melds East Coast prep with acid denim and tailored tracksuits. More nods to British tailoring came with classic tweed and wool topcoats and tartan suits, as well as mod floral print shirts. Timex has been working with Snyder for some time now and debuted their MS1 Maritime sport on the runway. It's the first original design in the long-running collab and the quiet black and silver color combination looks great with the more OTT looks Todd is showing this season. Our favorite? The velvet suits that rounded out the show. We sure could use a couple during these frigid months, paired with a turtleneck and Tricker's Chelsea boots of course. You reading this Todd?
Fresh off his win of the International Woolmark Prize for Innovation, menswear's latest favorite, Christopher Bevans has produced a solid collection with a slight nod to the Boy Scouts and the Black Panthers. Utilitarian is the name of the game these days and we see this trend popping up across the board. Maybe this is the result of the current political climate and the numerous protests around the globe? The black berets speak for themselves. Regardless, the puffers and down vests are sharp while still providing comfort 101. We like the gray game Bevans is offering and the pops of orange and red will keep you standing out from the crowd.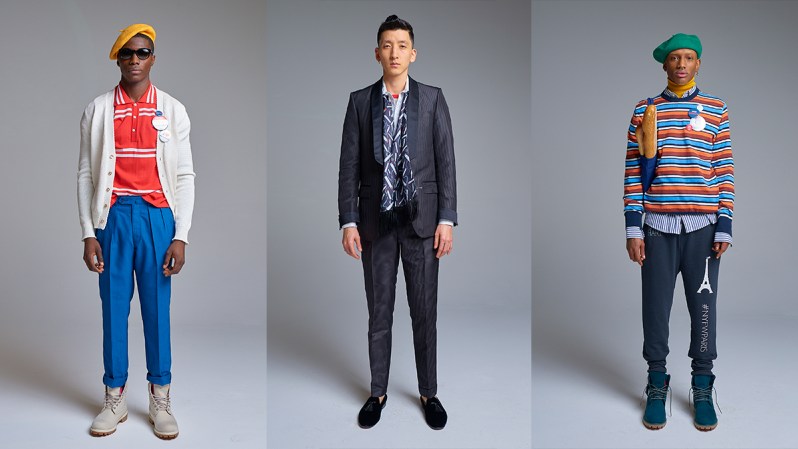 Our old friend David Hart was inspired by Paris and New Wave cinema this season. Again, more color: from lavender suiting to multicolored St. James striped sweaters. We even dug the splatter painted pants that looked straight out of an artist's studio on the Left Bank. Our favorite piece is the knitted cardigan blazer (aka the cardi-blazer) which we would totally sport while drinking vin rouge and sulking around the Le Marais.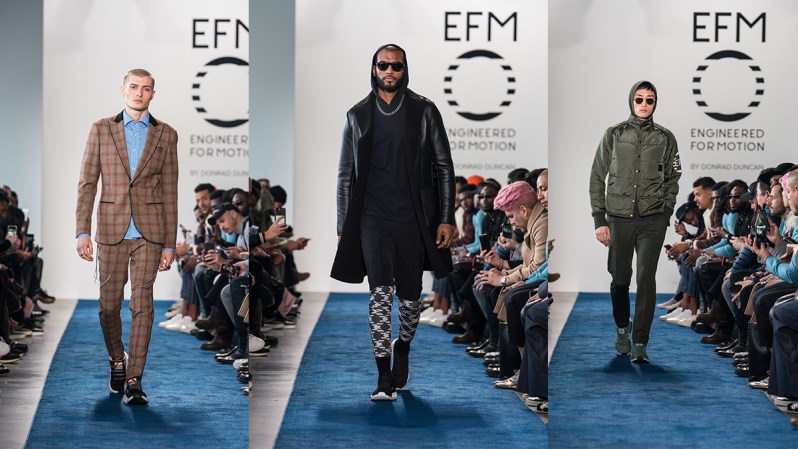 With a motto that states, 'Luxury menswear designed to meet at the intersection of active and elegant,' this is our kind of brand. Designer Donrad Duncan was inspired by the Jazz Age as we see in his bold plaid blazers and fitted flat front trousers. His outerwear is also a standout and is apparent in his refined parkas and fitted leather coats that hit just above the knee. Duncan is known for his use of innovative fabrics and he introduced some that we are eager to try like ultrasonic quilted neoprene, high luster printed nylon, and reflective metal mesh.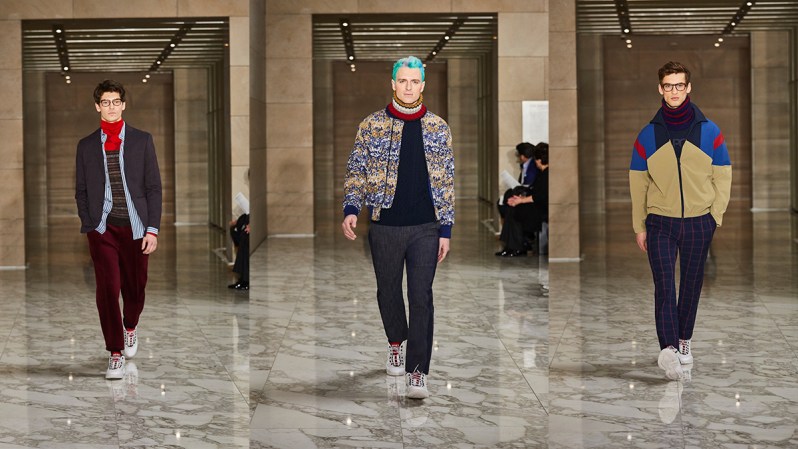 Ever since 1976, Perry Ellis has offered men the idea of 'anywhere dressing' or looking smart from the boardroom to the bar and then the beach. This season, the all-American brand did not disappoint, offering up casual looks while still hitting all the trends- tartan, turtlenecks, tailoring, and tracksuits. Like David Hart, Creative Director, Michael Maccari, looked towards Paris and the pointillism paintings of George Seurat. The colors were refreshing and fun and dare we say, 'On Point.'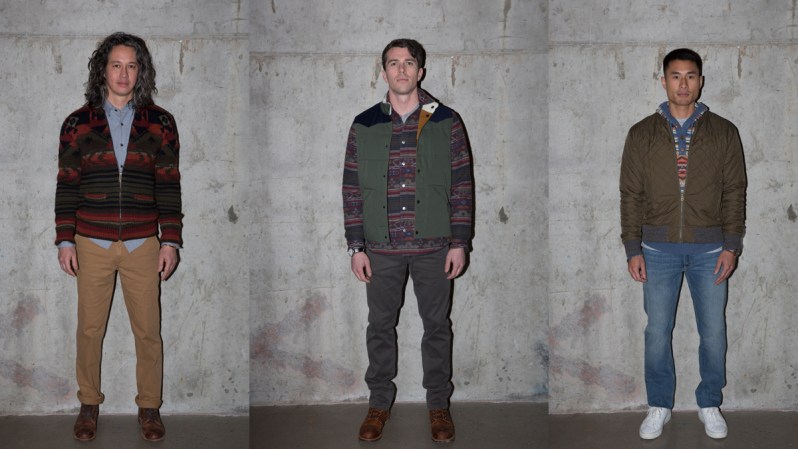 Inspired by a road trip through California, Faherty always delivers laid-back menswear that we love. While the Navajo prints are a perennial favorite, the oxford shirts, clean khakis, and the olive bomber were great classics that you can keep on rotation for years to come.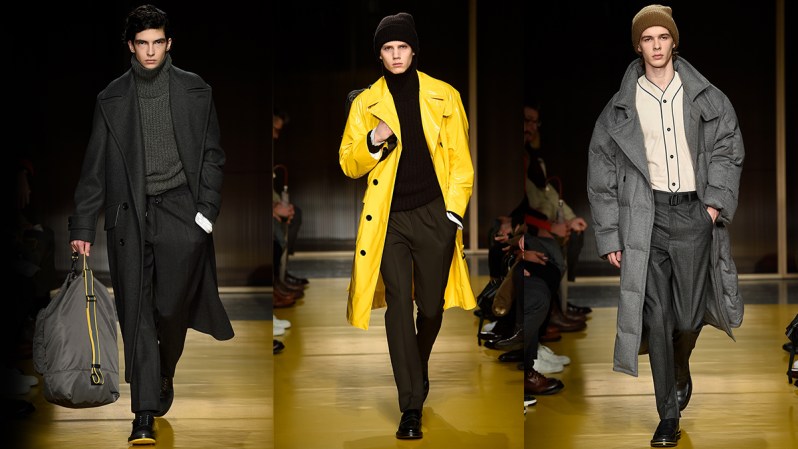 While the term 'athleisure' is almost as overused as 'totes,' Hugo Boss does it beautifully. The German brand still excels at tailoring: take their double-breasted long cashmere greatcoats and the tailored jackets that have added stretch nylon to give them a technical touch in addition to a clean line. We aren't mad at the quilted pants or the voluminous down overcoat that could keep us both stylish and cozy through an epic ice storm. The collection takes inspiration from the city so nice they named it twice, so in true New York form, it's a range of gray, black, deep navy, and cognac.
What You Need to Buy According to F/W 2018 Fashion Week
Velvet suit or blazer
Grey anything
Plaid anything
A striped sweater
A quality parka
Anything utility wear inspired (or the real thing!)
So, recap: gray, plaid, puffy parkas, and velvet. Got that?
Editors' Recommendations