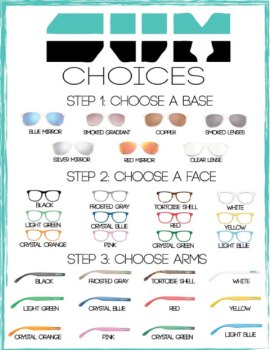 You know we love to give our readers the chance to wear what we write about so here is a giveaway that may get you hyped.
We are big fans of SUM, the recent sunglasses brand that kicked ass on Kickstarter. They are getting lots of attention from their rather simple concept: you can interchange the face, lens and arms of your eyewear to create limitless options.
Here is how it works:
Share this post on Facebook and we will choose three lucky winners who will each receive the entire set of pieces so that you have over 145,000 different combinations of shades to create. Bananas!
That includes:
7 different base lenses
12 different colored faces
12 different colored arms
We calculate that you could change these every day for almost 4o0 years. You can will these babies to your grandkids!
So go forth and share and may the best three men win.
Giveaway ends Friday August 21st.
Offer only valid for the United States.