Ever since the invention of individual timepieces in the 16th century, the watch has served as a status symbol. Like the Tesla or the Mastercard Black Card, only the wealthiest and best-connected men in society could afford this new accessory. Never mind that in its earliest years, the personal watch didn't tell time very accurately.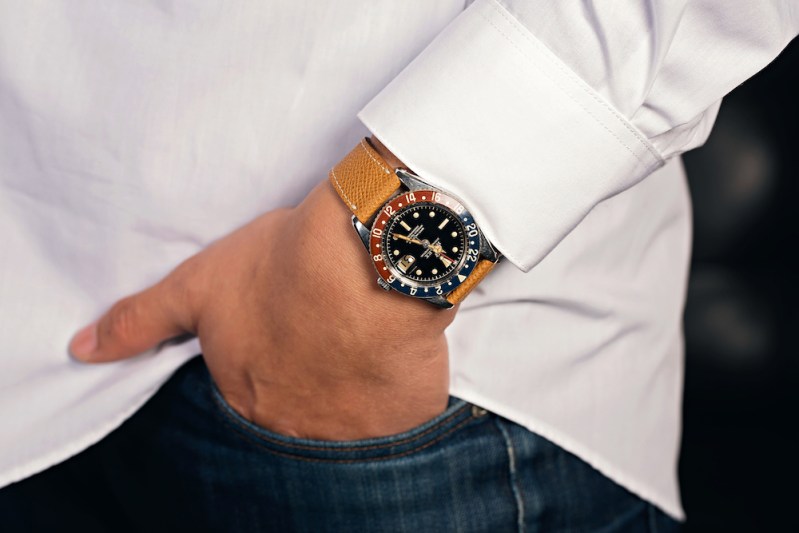 Each subsequent decade made the watch more egalitarian, while somehow never losing cachet. Today, we can tell the time any number of ways, yet owning a high-quality watch is still one of the most potent signals that you are one hell of a big deal. (Or at least you think you are. As James Bond author Ian Fleming said, "A gentleman's choice of timepiece says as much about him as does his Saville Row suit."
For many men, a watch is a rite of passage, a sign that you are ascending the ladder of manhood. Like passing out cigars at your first child's birth, sporting your first fine watch indicates that you've "arrived" in some way.
But like any status symbol, watches ride a fine line between being impressive and being obnoxious. And it's hard to say where that line falls — you just know it when you encounter it. Two guys can be wearing the same TAG Heuer or Montblanc, and on one of them, it rests like a medal of honor, while on the other it comes off tacky and unearned.
The difference lies in the story behind each watch. Sure, every great timepiece has its price, but what makes it magical is the journey that led it to your wrist. For that reason, we were highly intrigued by the innovative collection of vintage Rolex GMT watches from Bob's Watches. As one of the world's largest watch reselling websites, Bob's Watches has always been about more than just about getting expensive watches on wrists. The team personally seeks out incomparable pre-owned timepieces, vets each find, and publishes their technical and value details so watch connoisseurs can find, buy or trade for the vintage timepiece of their dreams.
The vintage Rolex GMT collection, personally curated by Bob's Watches CEO Paul Altieri, offers a stunning array of vintage timepieces, accompanied by each watch's real-life back story. We spoke with Altieri to hear more about his love for watches, how he assembled this breathtaking collection, and to hear some of the stories that make these watches unique.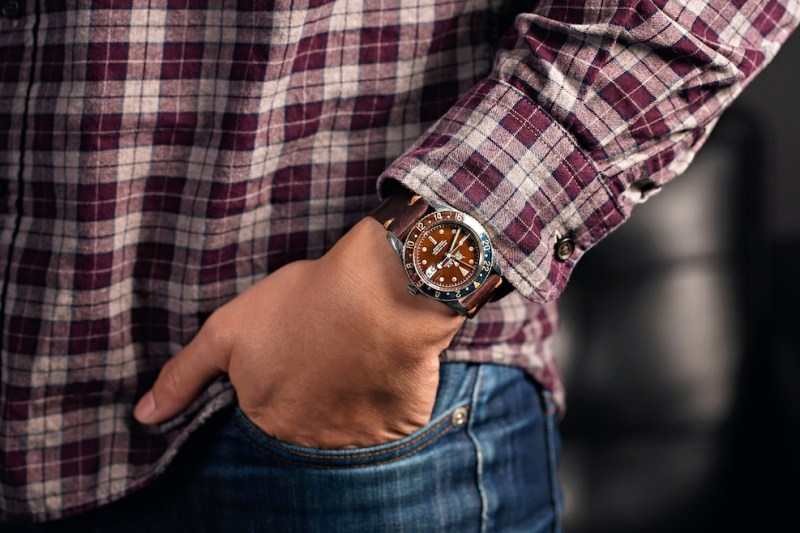 The Manual: How did your fascination with fine watches begin?
Paul Altieri: A lot of people discover an interest in watches later in life, but my fascination actually started at a pretty young age. I worked as a golf caddy at a local private Golf club in New England back when I was 14 and 15 years old. Most of the guys there were really cool — they were successful in their professional and personal lives, they were great golfers, and a lot of them wore a Rolex watch. Buying a Rolex for myself someday became an aspiration. and just like for many of our customers, it stands for something. Maybe a job promotion, passing the bar, or achieving some long-term goal. Like the old Rolex slogan goes, "a crown for every achievement."
TM: Why is a fine watch such an enduring symbol of power and status?
PA: Many wealthy people own luxury cars and houses, not because they have a deep passion for them, but simply because they can afford them and require both a place to live and a mode of transportation. If anything, luxury watches are even more potent status symbols than expensive cars or homes. Just like many luxury goods, fine watches can be status symbols due to their monetary cost and inherent exclusivity. But they also represent the fusion of art, engineering, history, and the continuous pursuit of excellence.
There are many things in our modern lives that can tell us the time of day. Wearing a luxury watch is a direct expression of a person's individual tastes, values, and even how they view themselves.
TM: Tell us a little about your company's mission and your clientele. What sort of watch enthusiast prefers a vintage timepiece over the latest model?
PA: Bob's Watches is almost exclusively a direct-to-consumer company, and our primary goal is and always will be catering to the customer. Many collectors are drawn to vintage watches because of the unique histories and details that simply don't exist among modern timepieces. We understand this, and aim to create a secure and informative community where collectors can find information about their favorite models and rest assured that no matter what watch they buy, they will always receive a top-notch genuine timepiece.
There are many things in our modern lives that can tell us the time of day. Wearing a luxury watch is a direct expression of a person's individual tastes, values, and even how they view themselves.
We are the only watch commerce site dedicated to trust, integrity, and transparency. We openly publish the buy and sell price of each watch we sell, so that both buyers and sellers can be sure that they are getting the best possible deal. Unlike a lot of our competitors, we only deal in 100% authentic original watches. We don't cut corners, and people trust us because of that. Whether they are looking to buy that latest pre-owned Rolex Datejust II, or a classic vintage Rolex Daytona from the 1960s, our mission is to ensure that our customers have all the necessary information to find a watch that will make them happy.
TM: Talk to us about the appeal of hunting down and acquiring a vintage watch.
PA: We get this question a lot: "How do you find these amazing vintage watches?" The truth is that there is no magic recipe for success when it comes to tracking them down. The real answer: They find me.
From there, it's about talking to previous owners, doing research, and working with our team of industry experts to confirm the authenticity of every watch and piece together the unique and often remarkable stories behind them.
TM: How does knowing the story behind a vintage watch increase its value? If people are shopping outside of Bob's Watches or currently own a favorite vintage watch, how can they learn the stories for themselves?
PA: Vintage watches are seriously cool by themselves, but it is the unique backstory of a watch that really breathes life into it, adding a certain intangible and historical significance that can significantly augment the overall appeal of the timepiece. Details like knowing who owned it, where he may have bought it, what he did while wearing it, if he was a war hero, a race car driver, or movie star – these are the type of things that can take a great vintage watch and make it truly exceptional.
A rich provenance accompanying a vintage Rolex or Patek Philippe can easily add 20-40% to the value. And if it involves someone really famous, like Marlon Brando or Paul Newman, the watch can be worth millions of dollars. Working with these folks or their children and getting to hear these amazing stories is a fun part of the business and one that I treasure. At Bob's Watches, we deal directly with individual owners so that we are able to preserve the legacy of the watch and ensure that the remarkable story behind it doesn't get lost to history.
TM: You were kind enough to share some of your favorite pieces from the vintage Rolex GMT collection. Can you share a bit more about why these watches and their stories are particularly meaningful to you?
PA: Each watch and its accompanying story speaks to me for different reasons, but a common theme among them is that they collectively represent the range of variation found among early examples of one of my favorite models of all time, the Rolex GMT-Master. Additionally, much like the watches themselves, the stories behind them collectively represent the various motives for why people buy these timepieces in the first place. These differ from one watch to the next. Some of these watches were purchased because their owners needed a top-quality timepiece to accompany them on a lifetime of adventures; others were bought to commemorate a special achievement or signify a major milestone in life. People buy luxury watches for many different reasons, and none are any more or less valid than others. Just like the watches themselves, the reasons why we buy them and the roles that they play in our lives are unique, and it is this diversity and individuality that truly defines this fascinating industry.
Paul Altieri's Top Picks from the Vintage Rolex GMT Collection
Rolex GMT-Master Ref. 6542, Case No. 426'xxx, circa 1959 (Estimated Value: $275,000)
This GMT-Master belonged to an individual that has traveled to the furthest corners of the world. Originally purchased from the Rolex store in Lucerne, Switzerland, this watch would go on to accompany its owner absolutely everywhere, from 1,300 meters underground in the copper mines in Kitwe, Zambia to Al-Kufrah, Libya where it spent an extended period of time bouncing through the desert in a Land Rover — and picking up a few scratches and stories in the process. The original owner recalls wearing this GMT-Master through all of his adventures and travels, from climbing up the Great Pyramid in Egypt to traversing back and forth between Amman and Baghdad in 1980s Chevy Impala taxi cabs. This watch was present for every possible adventure and milestone in its owner's life and was a faithful timekeeping friend through three marriages, time spent navigating the Nile, Zambezi, Rhine, and Mississippi rivers, and even being evacuated to Athens from Beirut just before the Lebanese Civil War. Does it still run and keep proper time? You bet it does.
Rolex GMT-Master Ref. 1675, Case No. 12x'xxx, CIRCA 1966 (Estimated Value: $75,000)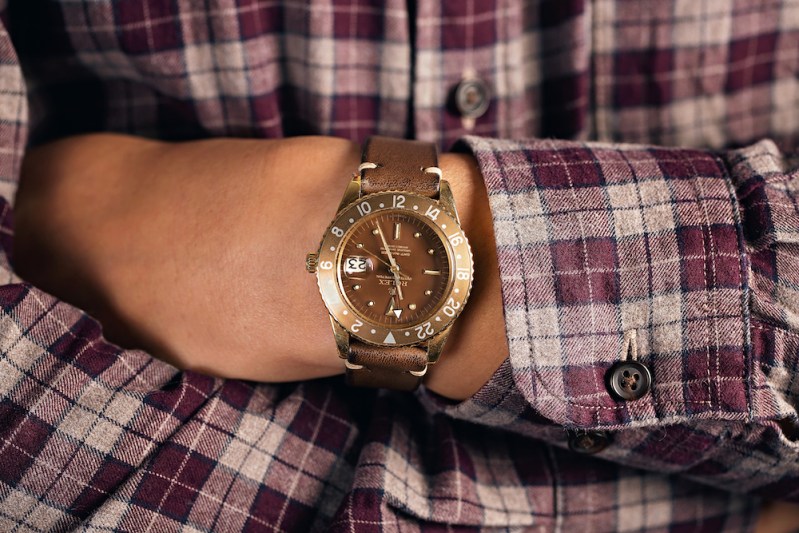 This Rolex GMT-Master came to us from a clockmaker in Scotland, whose father acquired it as part of a box filled with various items that he had purchased from a local auction hall in their small town. When his father passed, the man inherited a box filled with old watches and clocks, many of which were purchased from that exact same local auction saleroom. At that time in 1974, he was working as a clockmaker and was in the process of starting his own business, so the box of watches and clocks from his father was put away and forgotten about for many years. In 2001, the clockmaker and his wife emigrated to Naples, Florida and this Rolex GMT-Master just happened to be among the boxes of personal and family belongings that had been shipped out. When he first discovered it among the various watches and clocks left to him by his father, he didn't know much about it, but showed it to Rolex-certified watchmaker who told him that it was a valuable and noteworthy watch. After learning of its value and doing some more research about exactly what his father had left him, he came across our website and ultimately decided to sell the watch to us. Two years ago, the clockmaker and his wife sold their business in Florida and moved to Spain, so that they could be closer to their family in Scotland, while still enjoying the great sunny weather.
Rolex GMT-Master Ref. 6542, Case No. 367'xxx, CIRCA 1958 (Estimated Value: $150,000)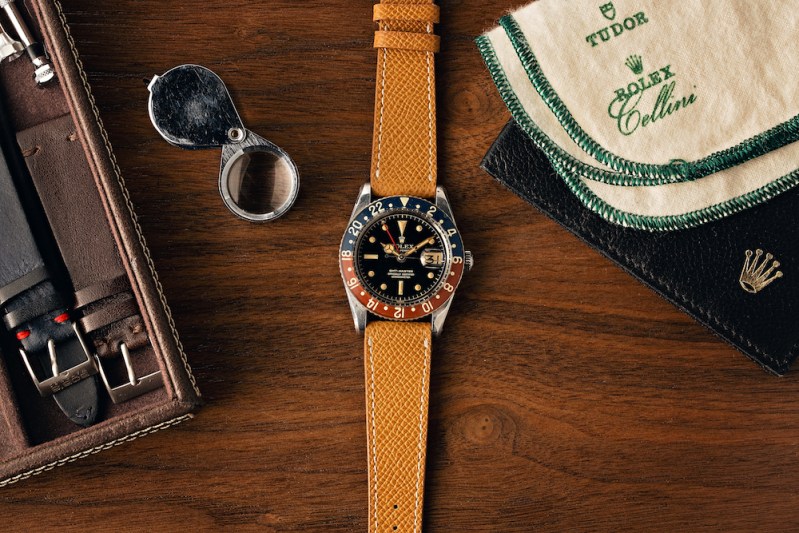 This Rolex GMT-Master came to us from the grandson of a doctor in North Carolina. Born into a humble household, he worked hard as a college professor until he met his wife, whose father – a man also from humble beginnings, whose first job was pulling a vegetable cart – offered to fund his dreams of continuing medical school. He graduated from Wake Forest School of Medicine and would go on to specialize in plastic surgery and post-trauma reconstruction, becoming a specialist in the hands and faces of people who had been through major accidents. His grandson recalls that his true passion was working with his best friend, a trauma surgeon, to rebuild the more complex parts of seriously injured people before too much scar tissue had developed. He also served on several research medicine teams that helped pioneer new methods of organ transplants in the 1970s that significantly increased their success rate. Eventually, he opened his own practice, where his wife got her start as a marketing professional before going on to become a professor of journalism at UNC. Despite his success, he always remained true to his humble roots and rarely ever purchased himself nice things. The one exception was this Rolex GMT-Master, which he purchased while on a family trip in Switzerland, and that he wore during the years while running his own practice.
Editors' Recommendations