When BMW unveils a new bike at a formerly fringe motorcycle show in America's most hipster-laden city, it's telling how far Portland, Oregon's One Motorcycle Show has grown in the eight short years it's been around.
But that's just what happened over the last weekend as, once again, thousands upon thousands of motorcycle lovers and leather-jacketed/bearded fashionistas (often one and the same) descended upon a sprawling former physical plant in the Rose City's Southeast quadrant.
Right inside the entrance on the left sat the new black-n-grey R nineT Scrambler, its shallow leather seat seemingly the lone piece of "custom" touchery (it's an option, actually) on a bike that in the open, would attract stares, but in this crowd, was relegated to wallflower status.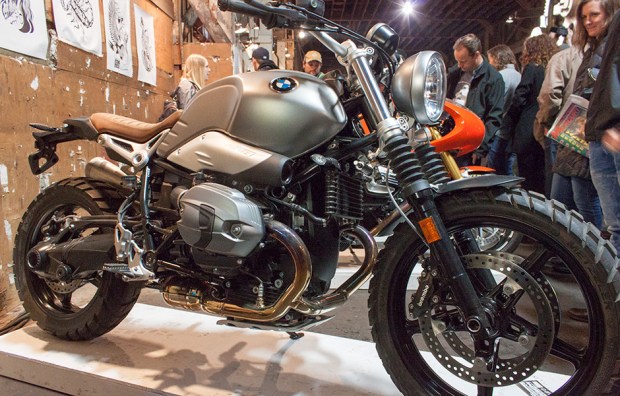 It probably didn't help that Roland Sands' stunning interpretation of what a new BMW R90S would look like was sitting right next to it, all aflame in sparkly burnt orange paint and sporting clip-ons, etc. to highlight its serious go-fast attitude. Sorry, Scrambler. We're sure you're a fine bike.
Braving typical conditions for February in Portland (cold, windy, near-constant rain), hundreds of people routinely queued up outside the show, all under the gaze of the local fire marshal, who only let in the exact number of people who just decided to leave. For many, it was a long, cold, damp wait to get in.
But once inside and refueled with Sizzle Pie pizza, gourmet coffee (natch), PBR tallboys (also natch), and live music, the bikes and thousands of bodies created enough heat to thaw out any doubters that the One Show, as locals call it, is still one of the hottest scenes in the nation for "real-world" custom bikes you're more likely to see on the road than as display art in a McMansion.
Are there some probably-never-actually-get-ridden super-sanitary customs on display? Sure, here and there, but the main thrust of the show is still what local builders come up with in dank garages or workshops in the region – and they come up with some doozies, as the photos above can attest.
The sponsor list is getting ever longer for The One Show, and the lines to get in may get a bit frustrating, but it's still worth the wait. And next year, show organizer Thor Drake says (facetiously – maybe) they're going to be moving the show to a new "probably shittier" location.
I'd say get your tickets early, but as it has been since the beginning, admission will be free.
Here are some highlights from the 2015 One Motorcycle Show:
The One Motorcycle Show 2015 ! from See See Motor Coffee Co. on Vimeo.
All photos by Bill Roberson