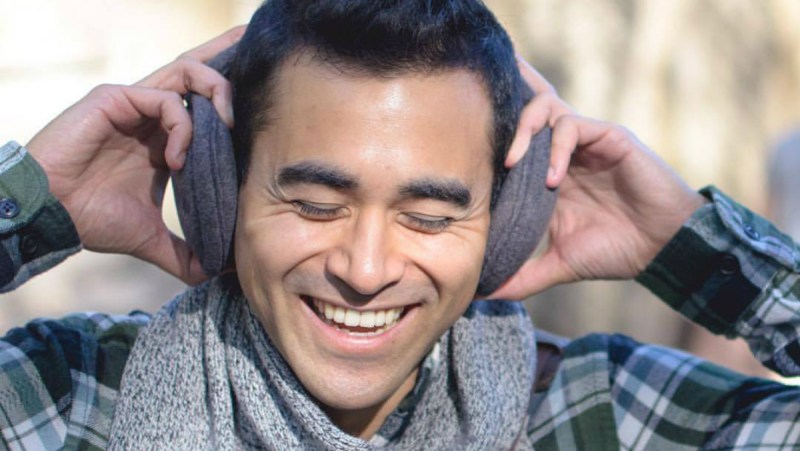 Have you ever had to make the difficult choice between headphones and earmuffs? Those who live in colder climes know the struggle all too well — walking to work (or school, or the bus, or the train) is much more enjoyable when you can bump your favorite tunes along the way.
Enter Portland, Oregon-based startup Sound Huggle, which aims to combine headphones and earmuffs in one stylish, affordable package. Founders Samantha Tran and Jason Yeh, who moved to Portland from the chilly streets of New York and Chicago, were inspired by the frustration and discomfort that ensues when trying to stay warm with headphones (or earbuds) equipped. Our brother site, Digital Trends, invited Tran and Yeh into the office to learn more about Sound Huggle. You can watch a Facebook video of the chat here.
The headphones (headmuffs?), soon to launch on Indiegogo, feature Bluetooth connectivity for hands-free listening, along with basic controls so you never have to take off your gloves. With more than 30 feet of Bluetooth range, you can even drop your phone and engage in a fierce snowball fight.
They will be available in several colors, and buyers will be able to choose between knit or fleece exteriors, as well as fleece or furry interiors. You will also be able to take phone calls on the Sound Huggles; the battery should last for seven hours of music playback or 10 hours of talk time.
Perhaps the coolest feature: The headphones are collapsible, so you can slip them off your ears and fold them directly into a jacket pocket. Since they are buffered by soft, woven fabric, there is no need to worry about toting around a zippered carry case either.
According to the website, the headphones will feature "crisp vocals, warm mids, clean bass, [and] rich quality sound." Since we don't know anything about the technology, we can neither affirm nor rebuke this claim.
While these could certainly come in handy during your winter walks, they could make a real impression if they can also be used for winter action sports like skiing and snowboarding. Get your own here.
Feature image courtesy of Sound Huggle/Facebook.
Editors' Recommendations