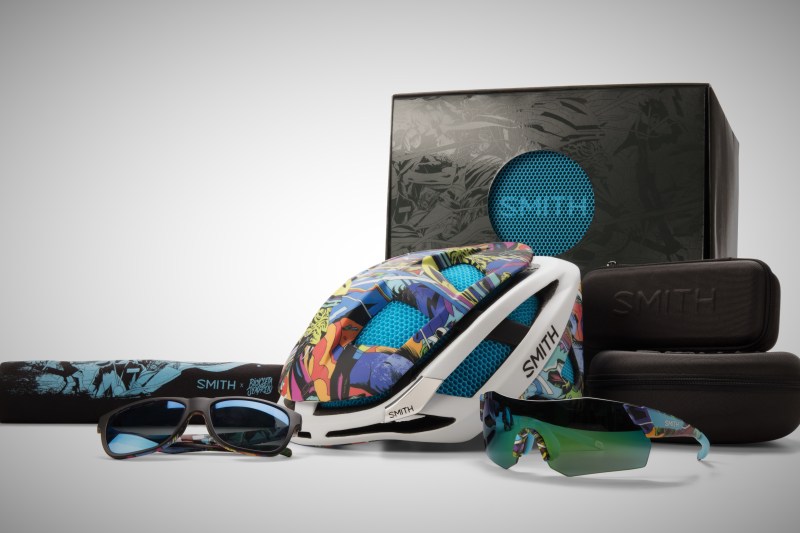 With the official kickoff to the 2016 Summer Olympic Games just a short couple of days away, athletes are descending on Olympic venues and fine tuning their pre-Games rituals. Our friends at Smith Optics have more than a few sponsored athletes heading to the Games this year and because of this, they came up with a unique way to celebrate some of our favorite sports. They've teamed up with famed artists from Bicicleta Sem Freio, a street art collective known for their vibrant mural style, to create a very limited collection of sunglasses, apparel, and bicycle helmets.
Related: How a Crash Helped Taylor Phinney Get to Rio
Comprised of artists Douglas Castro, Victor Rocha, and Renato Reno, Bicicleta Sem Freio (literally: Bicycle Without Brakes) is known for their street art all over the world, as well as immensely colorful – almost psychedelic – imagery that has been used by brands like Nike, Sony, Levi's and MTV. Their limited edition artwork will officially be unveiled at the games this weekend, and a limited amount will be available to the public later this month.

The Overtake's sharp angular design lends itself well to Bicicleta's bright, manic style. Underneath that paint job though, Smith's AEROCORE design features both Koroyd safety material and a full MIPS liner. It is one of the lightest helmets available for road cyclists and the most ventilated. Expect to see this one on the podium at the cycling road races on August 6th in Rio.
Related: Olympic Sailor Luke Ramsey On His Career and Style

Smith's Arena Max sunglasses were built for speed. The over sized single lens blends protection and comfort. They also have a hydrophobic coating, allowing them to stay sweat and fog free when you're working hard. If you're lucky enough to snag a pair of these limited editions sunglasses, you'll have a functional piece of commemorative art that will help you look and ride faster.