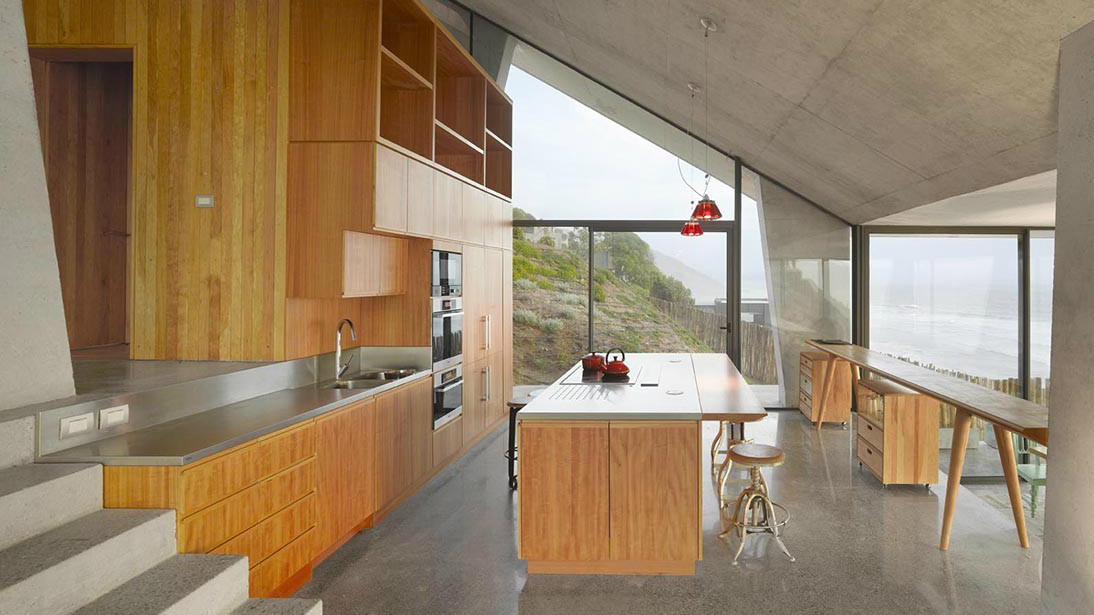 Ghat House is a whole new take on the cliffside home. We've seen abodes built on the edges of cliffs and ones built into the sides of cliffs, but Ghat House almost becomes the cliff itself, following the slope of the land from top to bottom as a series of stepped levels.
Located in Cachagua, Chile, Ghat House is an oceanside retreat created by architect Max Núñez. Using the existing topography of the land as inspiration for the footprint of the home, Núñez designed a contemporary brutalist space that is masculine, inviting, and seriously cool (we can easily see Goblin King Jareth from Labyrinth calling this place home).
Thanks to the angled roof, when viewed from the side, the entire home appears to be on a slant. This unique roofline is supported by a series of 15 concrete pillars. Each pillar varies in size and shape, creating an artistic focal point rather than boring support structures.
Much of the beautiful ocean views from the upper floors would have been obscured by having the roofline follow the slope of the land. Núñez's solution was to create wood-clad forms that cut through the roof, adding visual interest while also providing the upper levels with the spectacular views of the Pacific Ocean. These more private spaces house the bedrooms and bathrooms.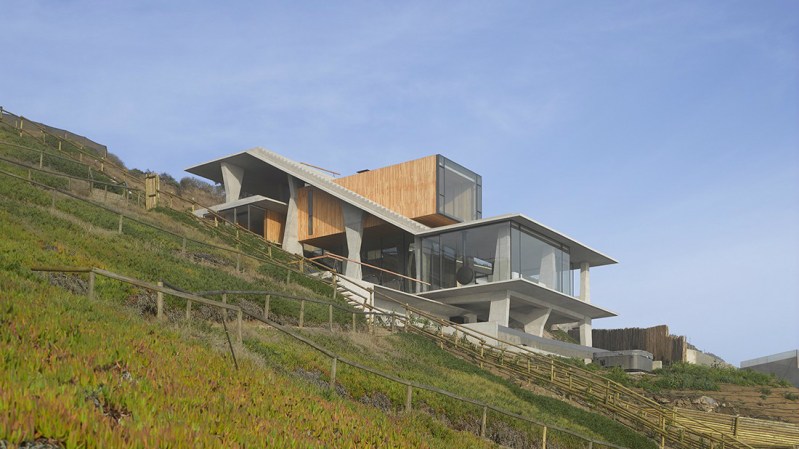 The wood continues on the interior of the home, bringing warmth to the concrete corralled rooms. The kitchen is all wood with stainless steel countertops; some interior walls and ceilings are also covered in wood.
The only other material used in the home is the glass for the exterior walls. This allows the home to be filled with natural light during the day, ensuring the space feels bright and inviting. When viewed from outside at night, the home appears to glow thanks to carefully placed recessed lighting in the floors. This lighting is also what creates the Labyrinth-esque feel, causing the very M.C. Escher-like stairs to cast shadows onto the ceilings.
Throughout the home, mesmerizing floating concrete staircases pop up, each going to different levels. One set takes you to a quiet sitting area while another opens to the roof, where there is also a staircase leading to a patio. An exterior staircase follows the land down to the lowest level where there is a small veranda, hot tub, and an angular infinity pool that is the perfect spot to watch the sunset.
Looking or more hard-lined architecture? These five brutalist homes are proof that concrete is anything but cold.
Editors' Recommendations