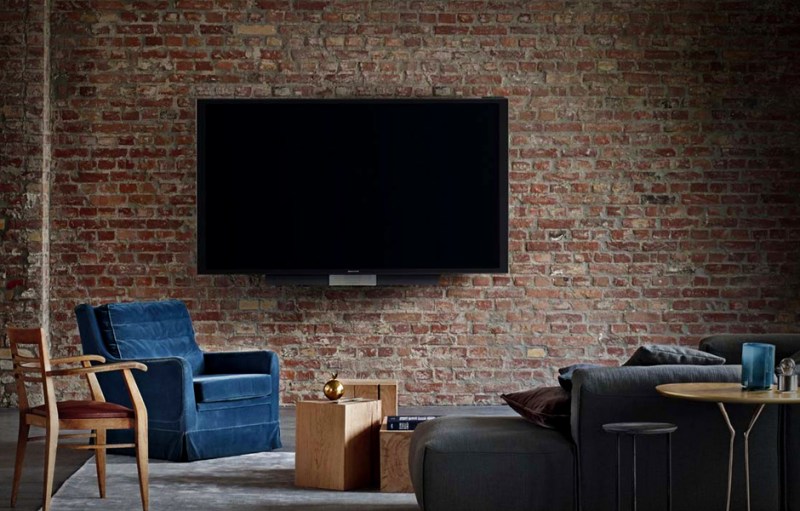 There was a time when an 85-inch TV was unheard of. Now, those out to inject their homes with a shot of cinematic splendor have several options to choose from—nearly every major TV manufacturer offers such a super-sized model, with a super-sized price tag to match. It comes as little surprise, then, that Bang & Olufsen, maker of some of the most iconic consumer electronics ever produced, now has one too. Earlier this week, the Danish company unveiled the big-daddy version of the 55-inch BeoVision Avant it released earlier this year, and it truly is a marvel to behold.
This 4K Ultra HD television offers more than just superior resolution and picture quality. It's been meticulously designed and crafted to be the aesthetic centerpiece of whatever room it occupies, and it comes packing a stunning sound system, one which Bang & Olufsen is particularly well suited to create. But perhaps the Avant's most compelling feature is one that isn't readily apparent at first: When turned off, the TV remains quietly tucked away, but when powered up, its motorized stand or wall mount springs to life, bringing the TV and its on-board audio system center stage, and turning to wherever its viewer may desire.
Upon pressing one of three pre-programmed buttons on the Avant's remote control, the television emerges from a recessed state and turns to face one of three pre-defined locations. In this way, the user is able to optimize the television for viewing in the living room, dining room, or kitchen area of a great room.
The accompanying sound system, which offers separate channels for left, right and center speakers, delivers high-quality stereo sound, with dialogue anchored in the center for optimal positioning and clarity. Using a proprietary algorithm, bass output is optimized based on the TV's distance from the wall behind it. For those interested in cinematic surround sound, wireless speakers can be added to support up to a 7.1 surround system.
Of course, all that pomp and circumstance would lose its luster quickly if the TV didn't also deliver when it was time for the pixels to perform. Fortunately, Bang & Olfusen have outfitted the Avant with top-notch TV tech, including a full array of direct LED backlights controlled by a local dimming system comprising 240 individual zones for superior black levels and contrast across the entire screen. There's also an "eye" that constantly measures ambient light and color conditions, which allows the TV to adapt its output in order to deliver an optimal picture in varied room conditions.
You might think such cutting-edge design and technology would cost a pretty penny, and you'd be right. But you may be surprised to learn that the 85-inch Avant is priced surprisingly close to its counterparts. At a suggested retail price of $23,000, the Avant stands shoulder-to-shoulder with comparable models from LG and Sony, and well below Samsung's similarly sized and equipped option. For those with the means to afford it, this should come as good news, because the Avant delivers in spades what many other oversized 4K televisions lack: the sort of style and refinement that allows a television to function spectacularly as both a piece of art, and a source of entertainment.
Editors' Recommendations