The classic flannel work shirt has been a staple for American men for over a hundred years. After that long, you'd think that the same old patterns would be tired out. However, a San Fransisco based company, Pladra, have reinvigorated the classic cotton flannel shirt, and it is our new favorite for wearing around camp, hitting the bars after a long day of climbing, and just about every other casual outdoor activity.
Related: The Most Luxurious Flannel Sheets | Our Favorite Gifts for Outdoor Moms
Pladra sets themselves apart from your typical flannel shirt in a few ways. First, every shirt they make is sewn in San Francisco, just a few blocks from their headquarters. This gives them control of the entire design and sewing process from start to finish. Having the ability to spin up new designs or correct any problems has made Pladra more responsive to the market – and their excellent customer service reflects that. Second, each shirt is lined at the cuffs and yoke with classic american wilderness scenes. Because they use custom runs of fabric, no two shirts end up quite alike.

The Elli is Pladra's all season shirt. The mid-weight cotton is light enough for a summer day on the lake, but also stands up to harder abuse. The cut is generous, allowing for a small amount of shrinkage when you wash it. We especially like the Burnt Black ($119) color, with its black bears on the cuffs and yoke.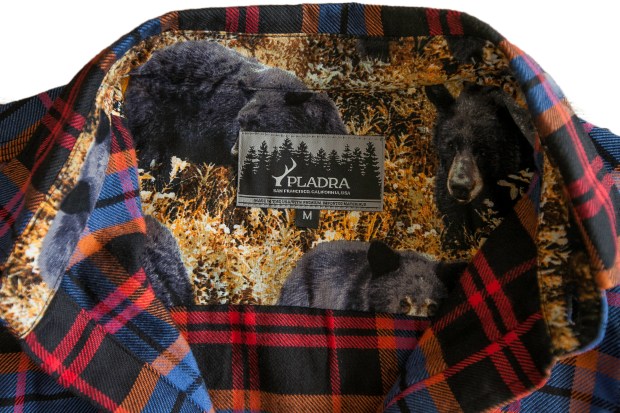 Leon

The heftier Leon, with reinforced faux-suede (to maintain machine washability) elbows, is our go to piece for colder temperatures. This is the shirt you need for that apres ski drink in Aspen or chopping fireood in Jackson Hole. Check out the Smokey Blue ($129) for a perfect option for winter days around camp or on the town.


Pladra's women's line manages to look feminine without compromising any of their design hallmarks. Rather than the typical outdoor apparel that tends to follow the "shrink it" idea, Peregrine shirts and dresses feature custom flannel patterns and near perfect cuts. You probably already spotted the Kap Red Dress ($129) in our Mother's Day Gift Guide. It is definitely our favorite of the whole line.
Editors' Recommendations