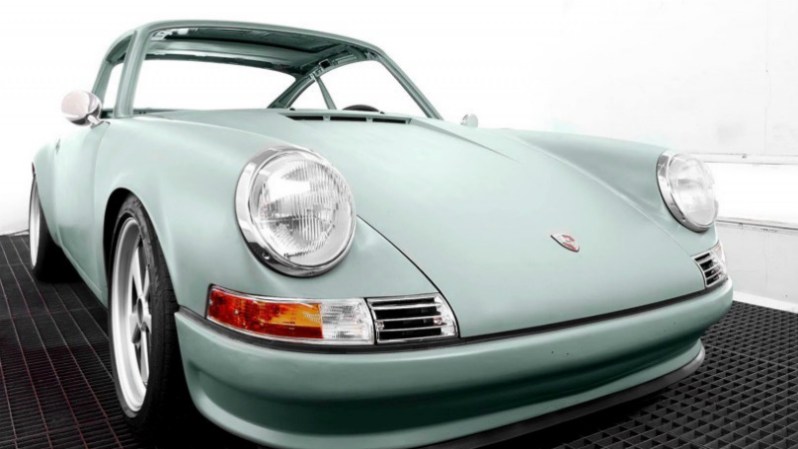 Restoring and upgrading old Porsche 911s has become a cottage industry, but no one does it like Voitures Extravert. The Dutch company was founded to keep these classic sports cars on the road even if internal combustion is one day banned from European city centers. So Voitures Extravert takes out the stock flat-six engines, and replaces them with electric powertrains.
The company calls its electric 911 the Quintessenza, and it's available in two configurations. The Quintessenza SE is styled to look like a 1960s 911, while the Quintessenza TE borrows styling features from later 1980s models. Voitures Extravert uses original 911s that would be uneconomic to restore otherwise; its car-enthusiast bosses don't want to rip up pristine cars.
Both Quintessenza models sport a 60-kilowatt-hour pack that provides a claimed range of 400 kilometers (250 miles). Voitures Extravert also claims a 0 to 100 kph (0 to 62 mph) time of 6.0 seconds, and a top speed of 200 kph (124 mph). That isn't lightning fast by modern standards, but it's appropriate for the era these cars hail from, and pretty good considering the added weight of the batteries.
Speaking of batteries, Voitures Extravert distributes the cells throughout the car, allowing for a claimed 50/50 front/rear weight distribution. That's a major achievement for a 911, as these cars are very tail-heavy in stock form due to their rear-mounted engines. Voiture Extravert also fits its cars with upgraded brakes and adjustable dampers, as well as convenience items like power steering and air conditioning.
One of Voitures Extravert's electric 911s will set you back 300,000 euros, or about $370,000 at current exchange rates. That price does include the cost of the donor car, which Voitures Extravert sources. The finished product comes with a five-year, 62,000-mile warranty.
Voitures Extravert plans to build just five cars this year, all of which are sold out. The company is taking orders for next year's production run of 12 cars. By 2020, Voitures Extravert hopes to be building three cars per month. The company isn't alone in its effort to electrify classics: companies like Austria's Kreisel Electric specialize in electric-car conversions and, if you're prepared for a little trial and error, it's even something you can do at home.
A version of this article originally ran on our brother site, Digital Trends.
Editors' Recommendations